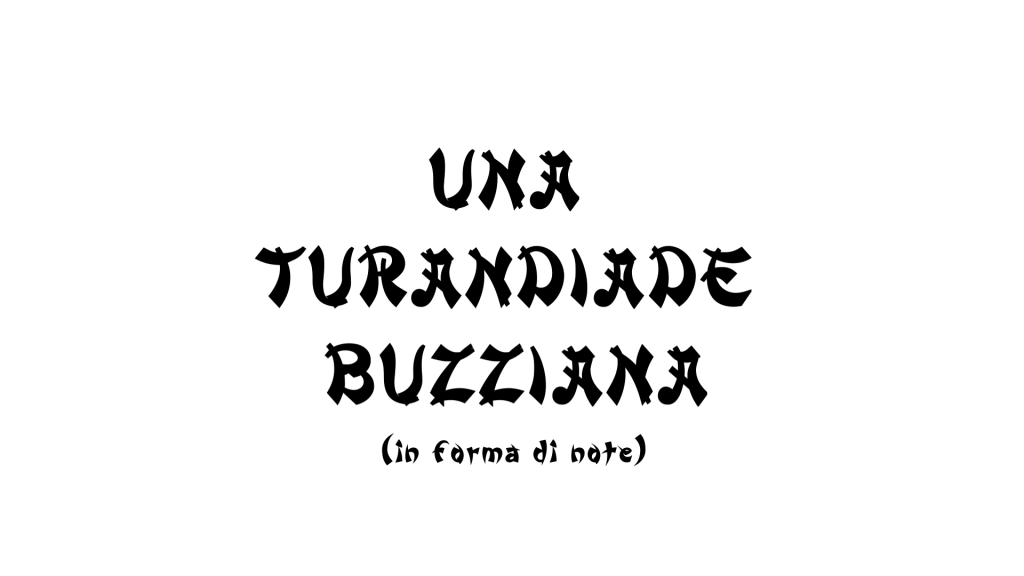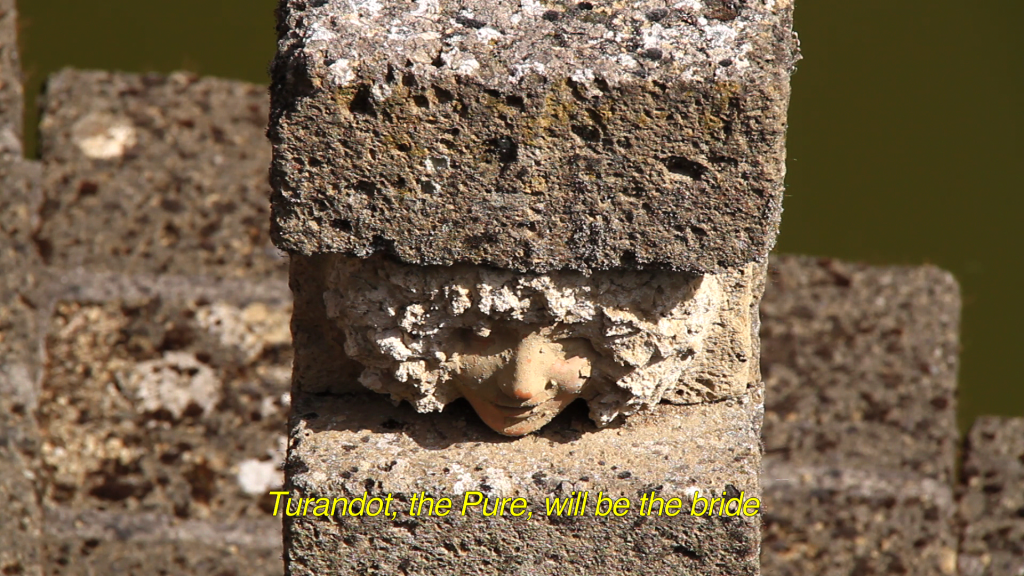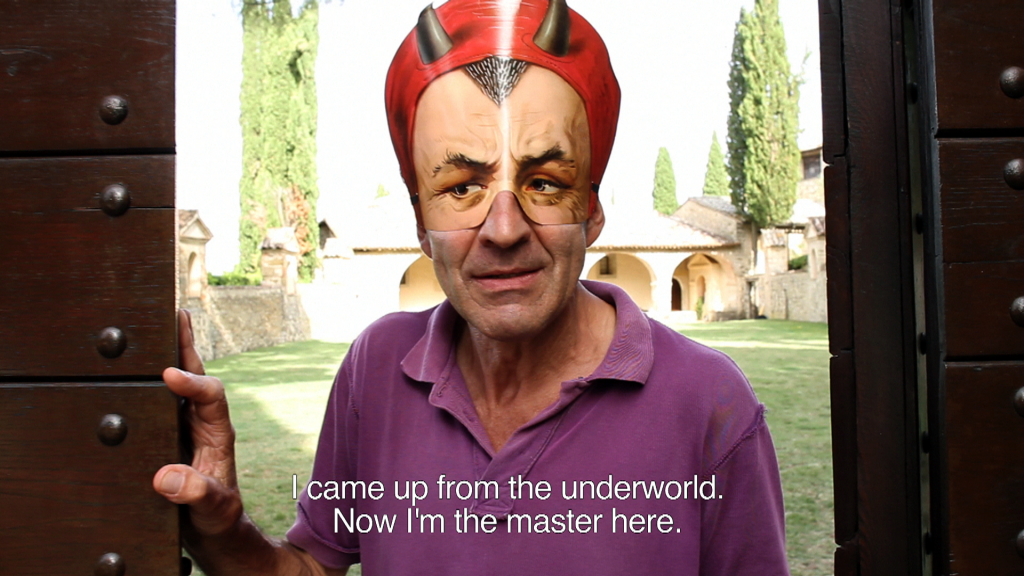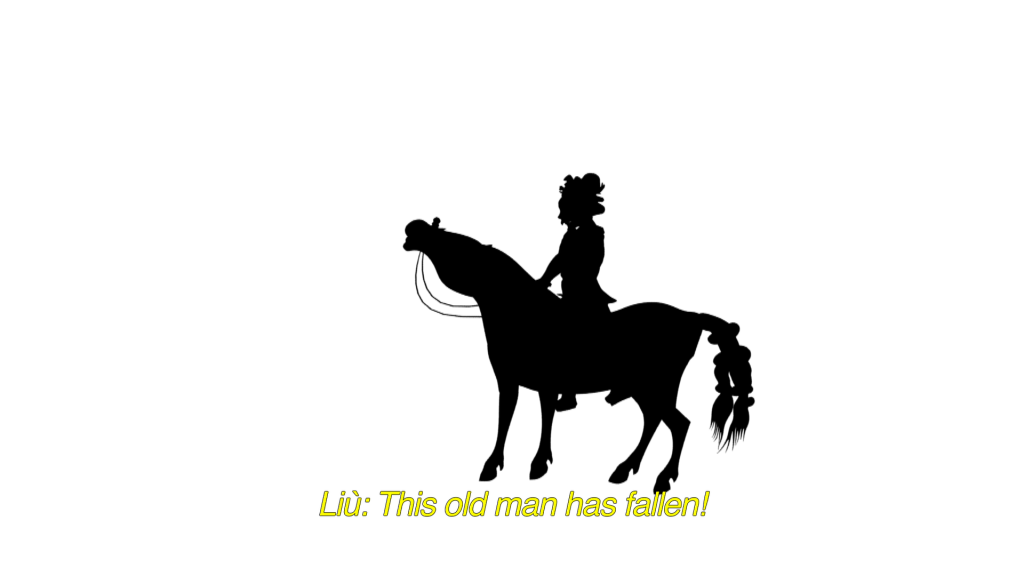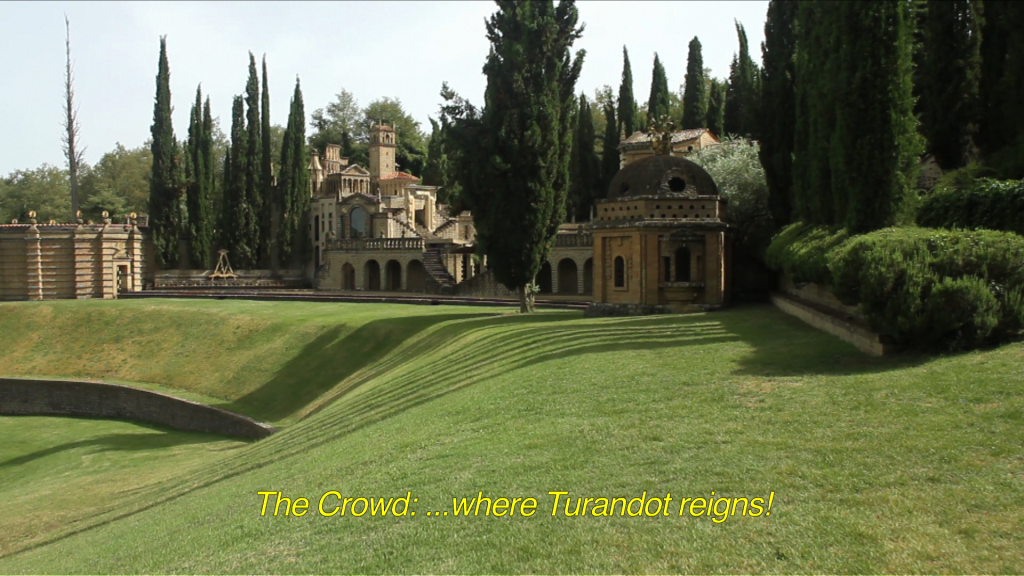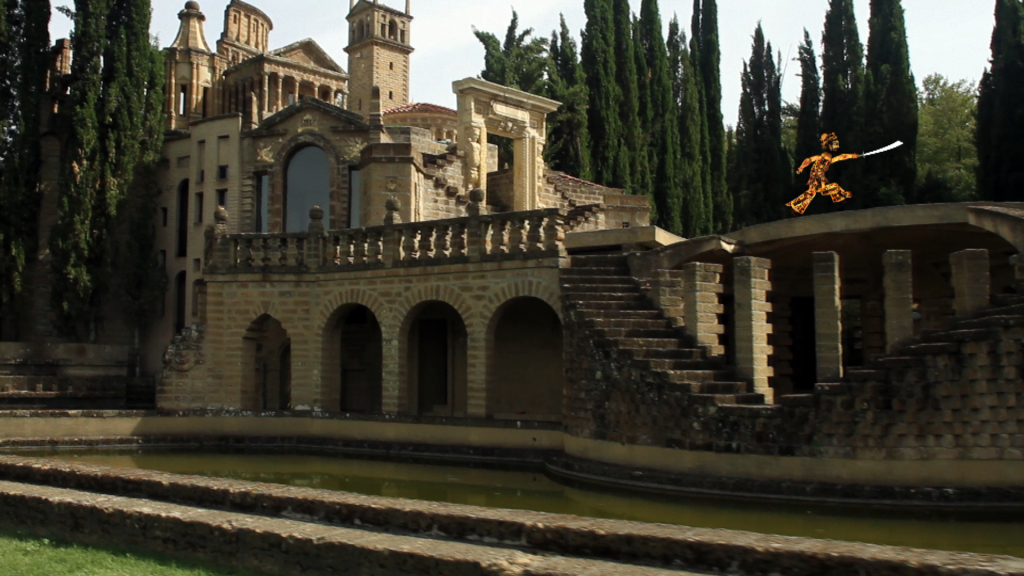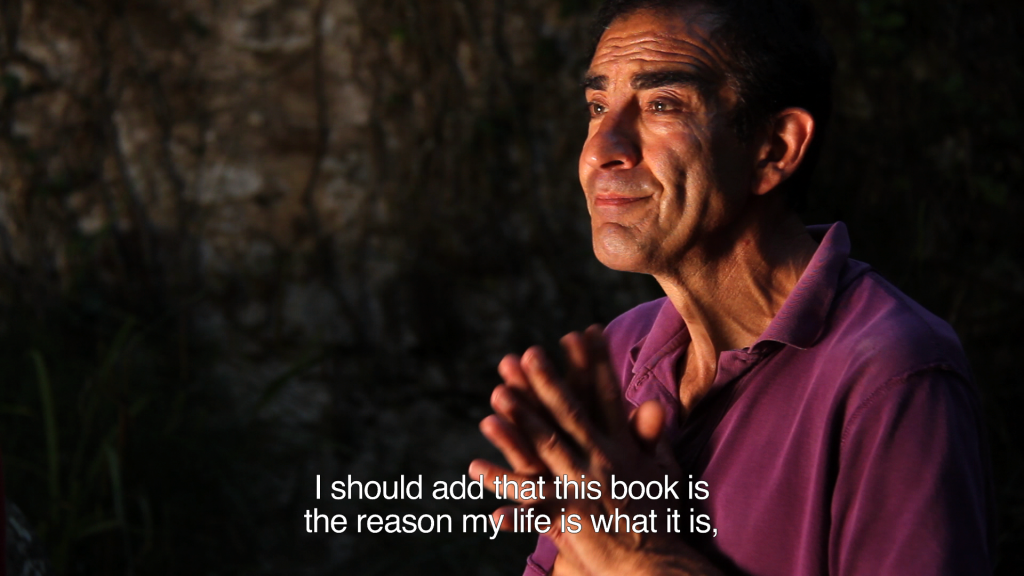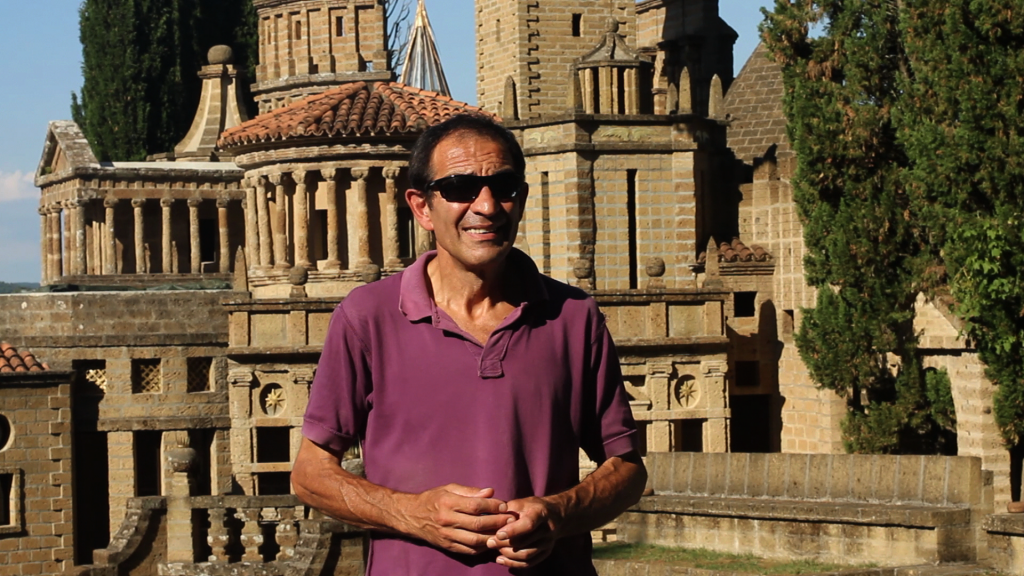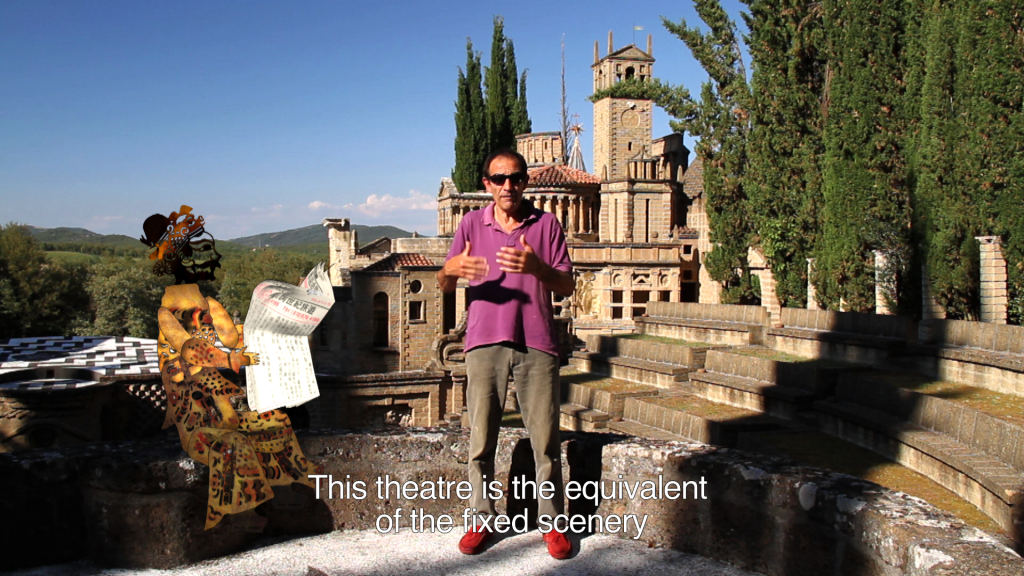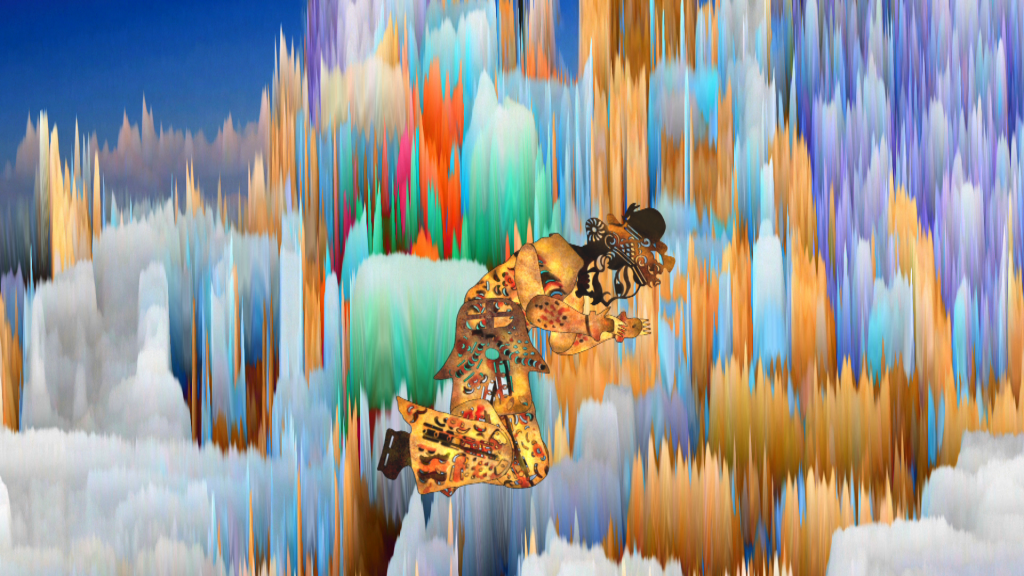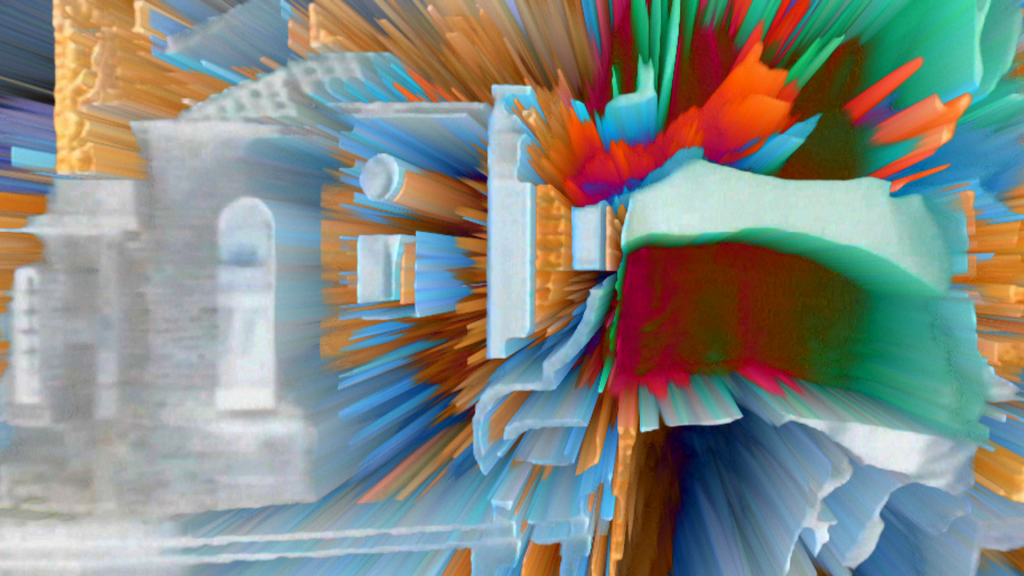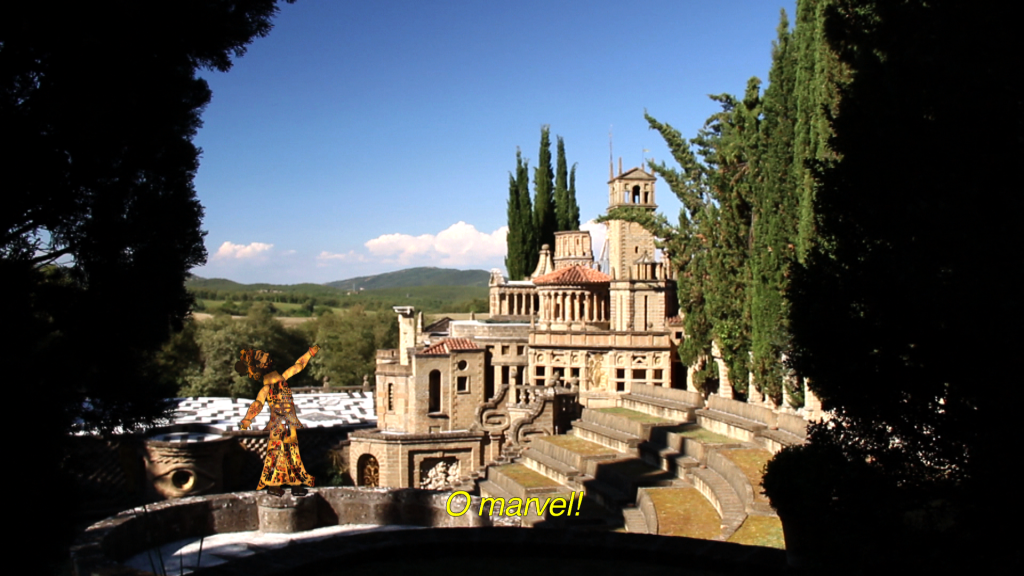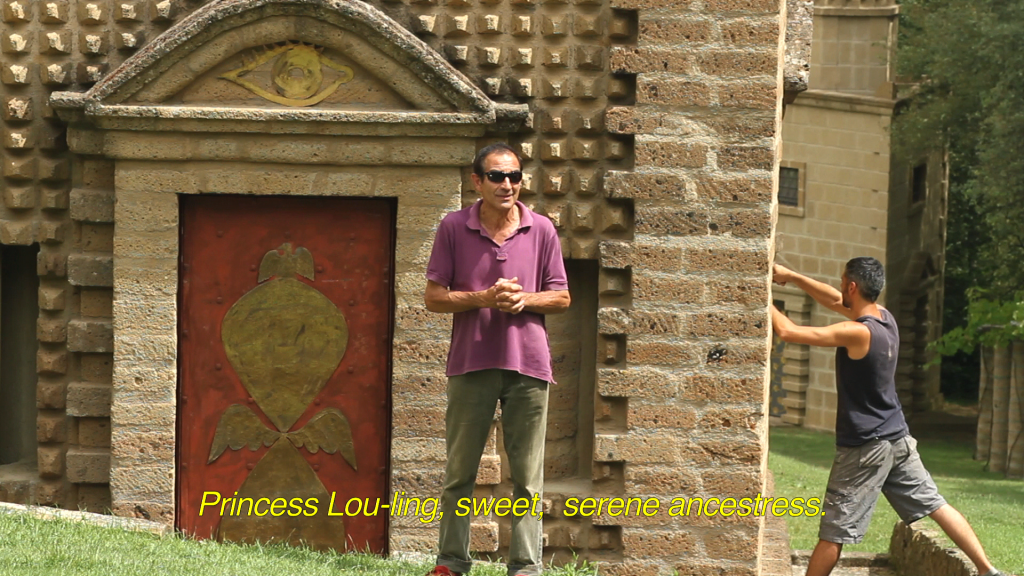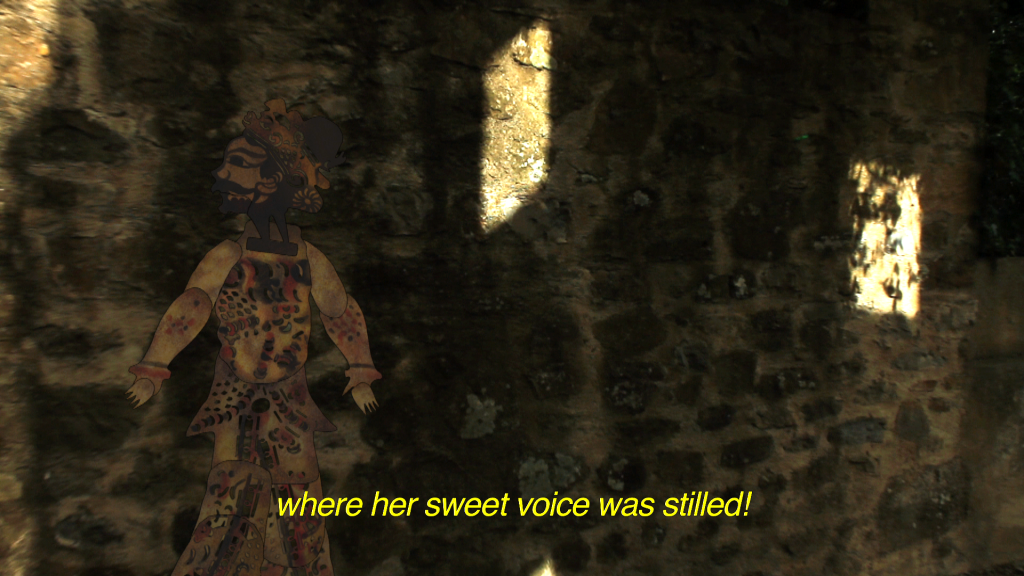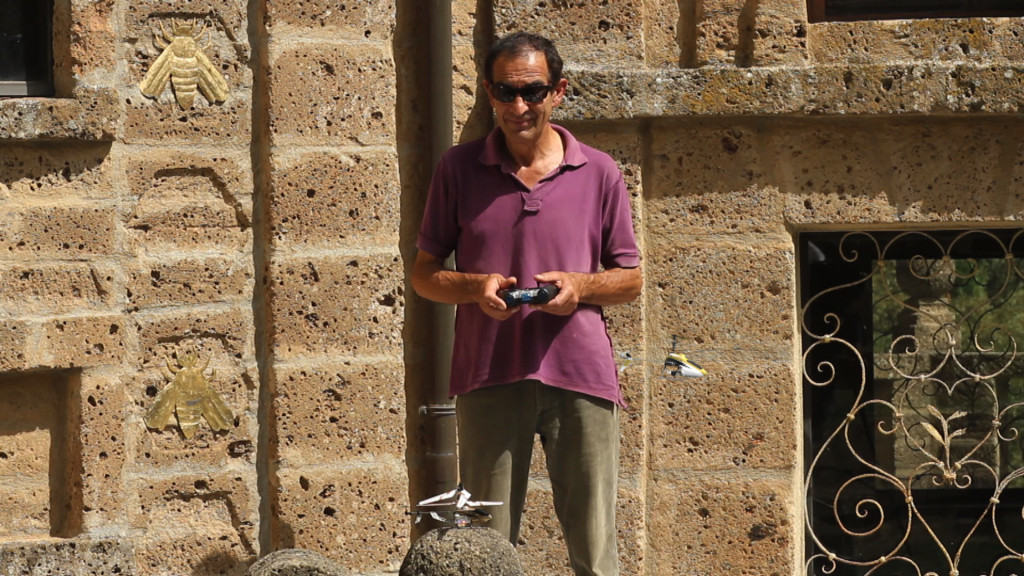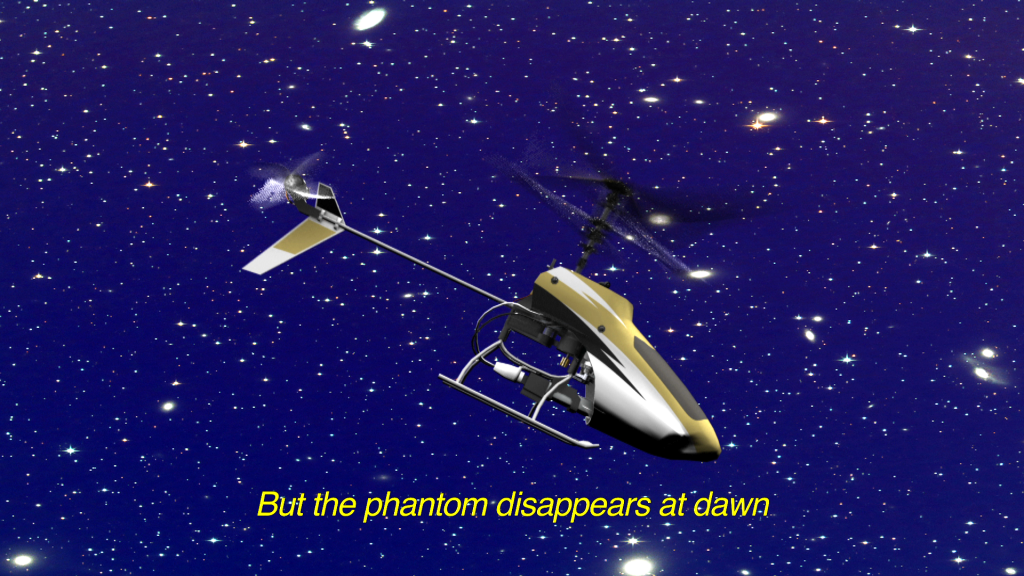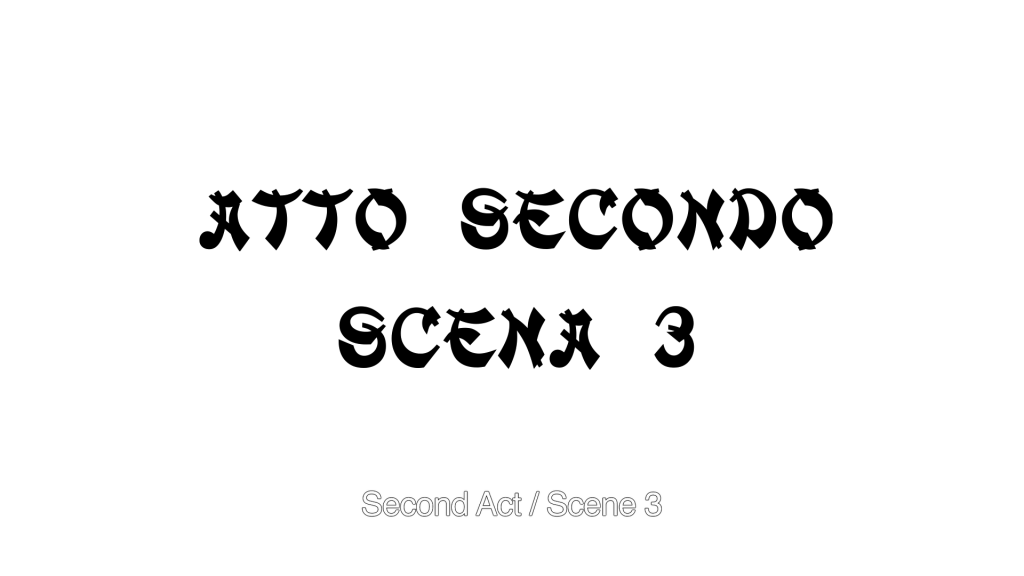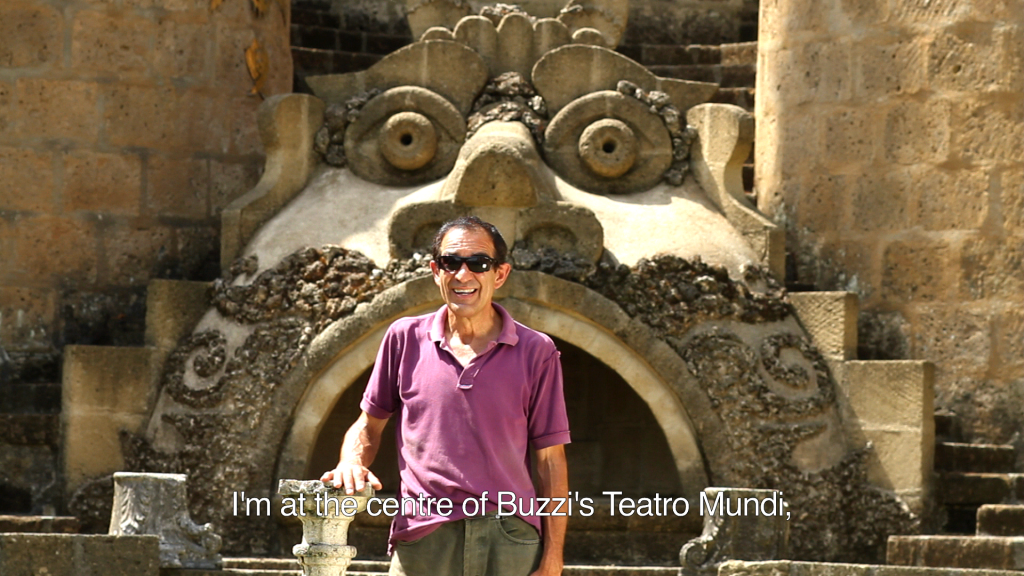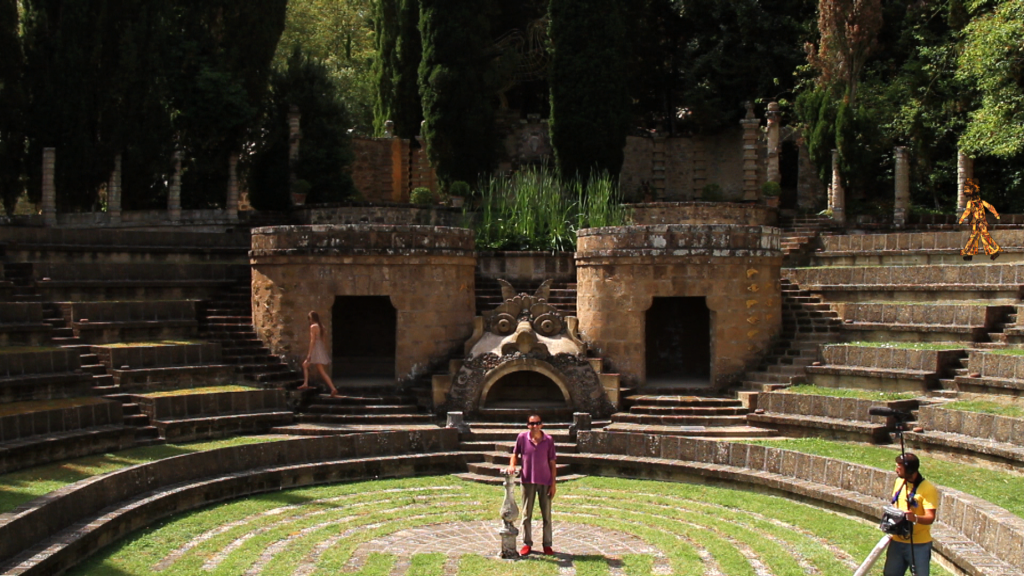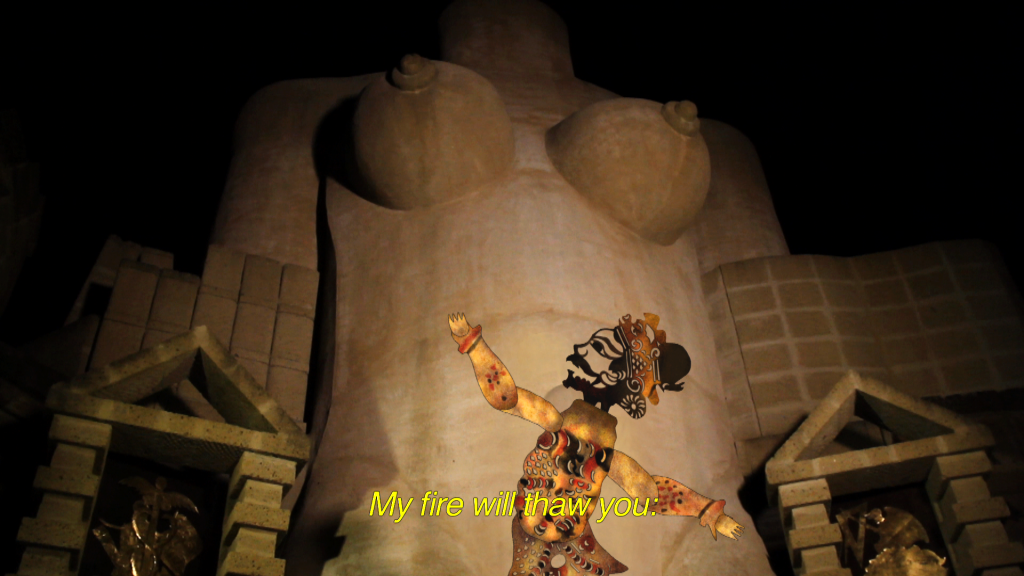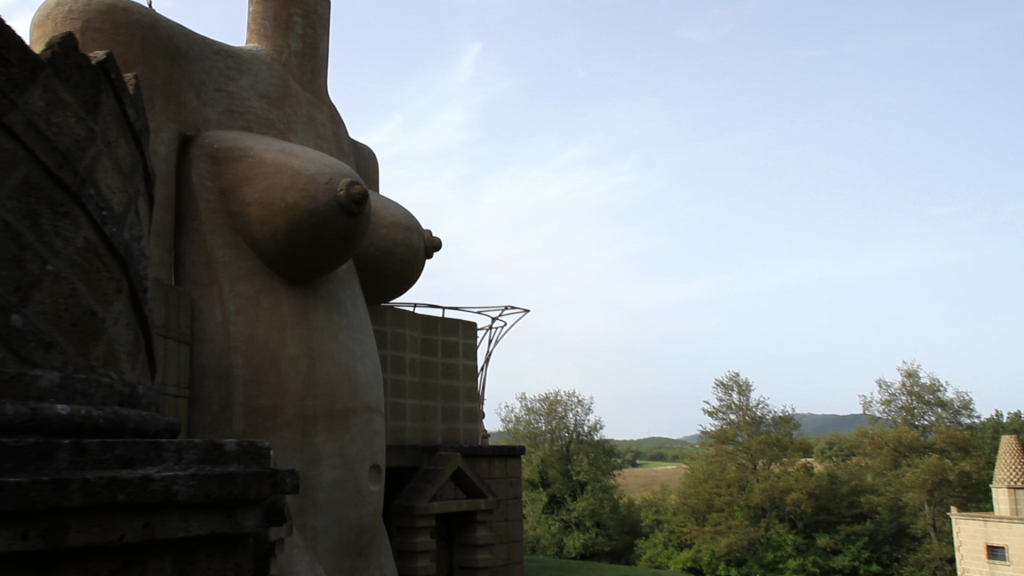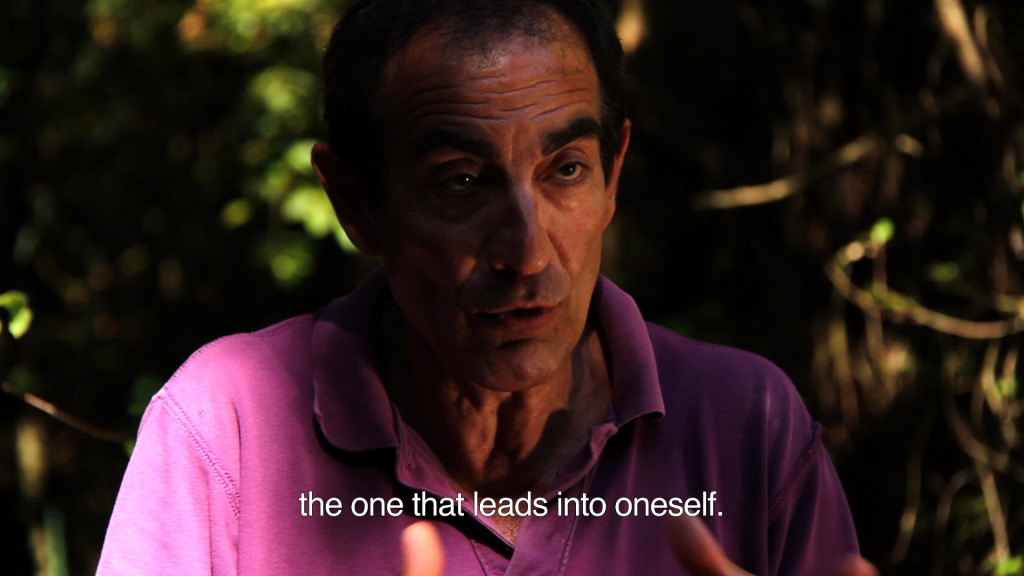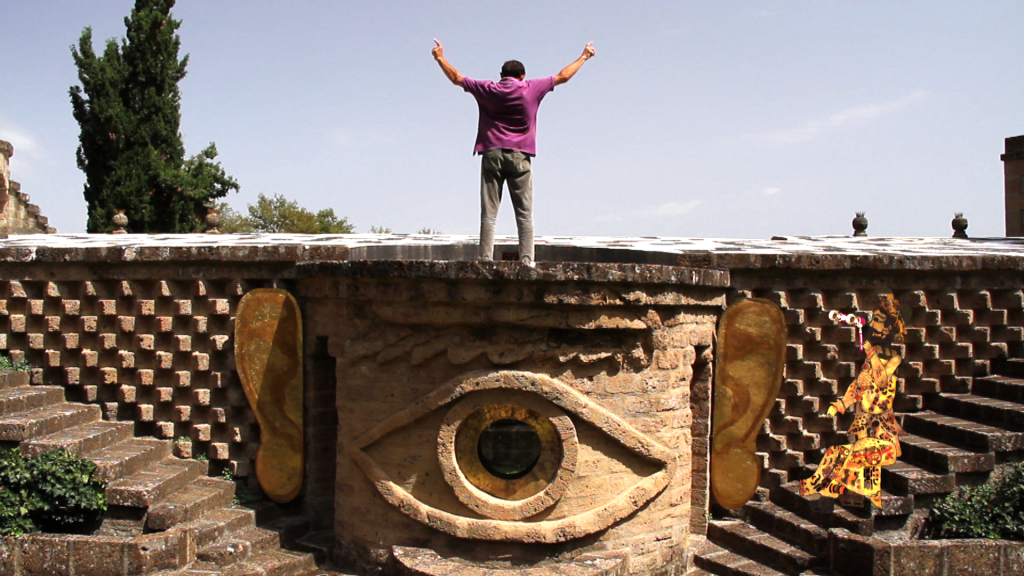 Patrizio Di Massimo,
Una Turandiade Buzziana (in forma di note), 2011
HD Video, animation, stereo sound,
44 minutes
p
p
EN / Overture of the video:
In 1956 the Milanese architect Tommaso Buzzi began the construction of a project that had grown out of his childhood dreams and for which he gave free rein to his imagination. Part garden, part ideal city, part theatrical setting, this project was carried forward by Buzzi in total secrecy until his death in 1981.
Since then, his nephew Marco Solari has continued what Buzzi left  unfinished, carrying on the construction for the past thirty years on the basis of his uncle's sketches, and creating those sections that had remained purely in the architect's imagination. He has connected the various elements to form an initiatic path that is a metaphor of man's earthly life. Otherwise inaccessible to the public, Solari offers guided visits to the site conducted more in the manner of a performance.
The place has no name but is conventionally referred to as Scarzuola, Buzziana or Buzzinda, among other things.
In 1920 the composer Giacopo Puccini began to write his last opera, Turandot. Set in China, it tells the story of the reign of terror of Princess Turandot. Believing herself the reincarnation of one of her ancestresses who was killed by a foreign prince, she has promised never to give herself in marriage. Anyone wishing to try for her hand has to solve three riddles; failure to do so correctly means death.
When in 1924 Puccini died, the opera was unfinished. The finale was therefore entrusted to a young musician by the name of Franco Alfano, who successfully completed the final act that Puccini had found so difficult.
Turandot is one of the most famous operas of the twentieth century and is performed constantly around the world. In my opinion, There is no finer place in the world to stage it than Scarzuola.
p
p
IT / Apertura del video:
Nel 1956 l'architetto milanese Tommaso Buzzi comincia la costruzione di uno spazio architettonico devoto ai suoi sogni di bambino e alla liberazione totale della sua fantasia. Questo spazio, in parte giardino, in parte città ideale, in parte scenografia teatrale, fu portato avanti da Buzzi in completo silenzio fino all'anno della sua morte, nel 1981.
Da allora il nipote Marco Solari ha continuato quello che era rimasto un progetto incompiuto, un cantiere lungo trenta anni. Seguendo gli schizzi dello zio egli ha dato vita a segmenti della città che ancora non esistevano, collegando il tutto per formare un percorso iniziatico metafora della vita dell'uomo nella dimensione terrena. Solari offre la possibilità di visitare lo spazio, altrimenti inaccessibile al pubblico, organizzando delle visite guidate che sono delle vere e proprie performance da lui condotte.
Questo luogo non ha nome, sebbene per convenzione lo si chiami Scarzuola, o Buzziana, o Buzzinda, o altro ancora.
Nel 1920 il compositore Giacopo Puccini comincia la stesura della sua ultima opera lirica: la Turandot. Ambientata in Cina l'opera racconta del regno di terrore della principessa Turandot, che credendosi la reincarnazione di una ava uccisa da un principe straniero, promette di non darsi in sposa mai a nessuno. Chi vorrà provare a sposarla dovrà risolvere tre enigmi, o avrà la morte.
Quando nel 1924 Puccini morì l'opera era incompiuta. Il suo finale fu quindi affidato ad un giovane musicista di nome Franco Alfano, che completò l'atto finale tanto difficile allo stesso Puccini.
La Turandot è una delle opere liriche più famose del ventesimo secolo ed è costantemente rappresentata nei teatri di tutto il mondo. A mio avviso, è nella Scarzuola che trova la sua messa in scena perfetta.
p
p
Exhibited at: Premio Italia Arte Contemporanea 2012, Maxxi, Rome, 2012
p
p
Extract from Ritual without myth's exhibition at Royal College of Art:
"Whilst developing Flight from Disorder, Di Massimo became intrigued by the work of Tomaso Buzzi. Architect to the Italian aristocracy who had updated the aforementioned Villa Necchi Campiglio in the 1950s. Frustrated by his commercial commissions, in 1957 Buzzi began to create La Scarzuola – an architectural folly built on the site of a Franciscan monastery in Umbria. Adding to the site intermittently, Buzzi gradually animated and personified his private city with layers of mythical iconography and symbolism, which he freely combined with Medieval, Renaissance and Mannerist architectural styles. Following Buzzi's death in 1980, portions of La Scarzuola were completed by his nephew, Marco Solari, thus rendering the authorship of the site as a whole ambiguous.
At the heart of Buzzi's project was the enigmatic and mythic dream of Poliphilo, from the early Renaissance book Hypnerotomachia Poliphili (1499). The book's illustrations and narrative (attributed to both Alberti and Colonna) describe a dream-within-a-dream of the hero Poliphilo, in pursuit of his lover Polia. Di Massimo responded to the theatrical scenography of the site and its complex strata of connections. In collaboration with Solari, he created Una Turandiade Buzziana (in forma di note) [Buzzi's Turandot (In the Shape of Notes)] (2011), in which the viewer is taken on a tour of La Scarzuola by Solari. Mediated by the camera, his narration is punctuated with moments of dream-like, animated fantasy, through which the narrative of Giacomo Puccini's iconic opera Turandot emerges in parallel. The architectural tour overlaps with the lyrics of Turandot to reveal an exquisite series of associations between Solari, Buzzi and the architecture itself, echoing the love story within the opera between the unknown Prince Calaf and the Princess Turandot. Sharing the stage with Solari, an animated Chinese shadow puppet playfully alludes to the exoticising of the Orient within the opera. The mischievous character observes Solari's performance and then himself performs to the anthropomorphic architecture of La Scarzuola, which metaphorically becomes the opera's princess, Turandot.
Di Massimo's works seen here use the rhetorical ritual of a guided tour to give voice to unspoken or silenced elements of Italian history, through a subtle layering of voices that unsettle the authority of a single narrator. The works gesture towards the complexity of Italy's established cultural and historical myths, replacing them with open questions."
Elizabeth Stanton