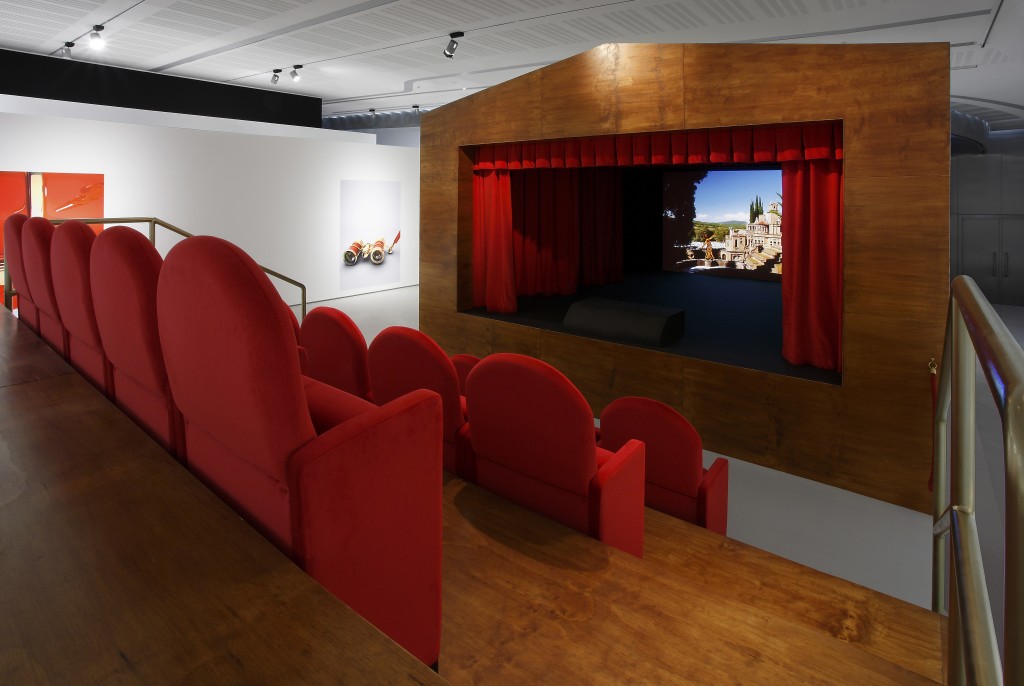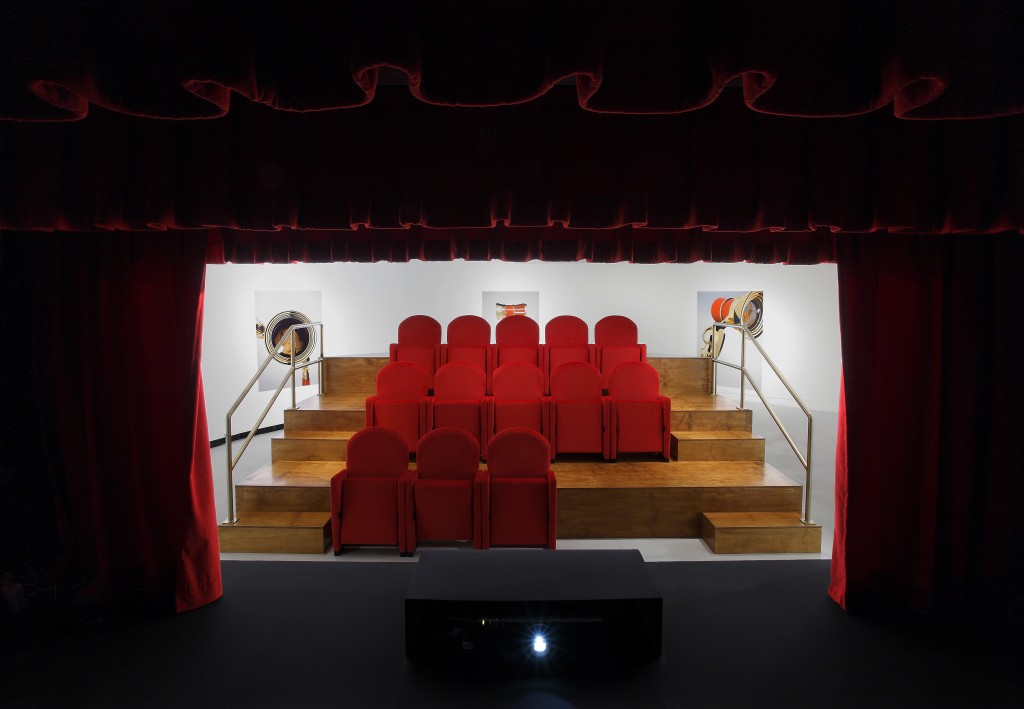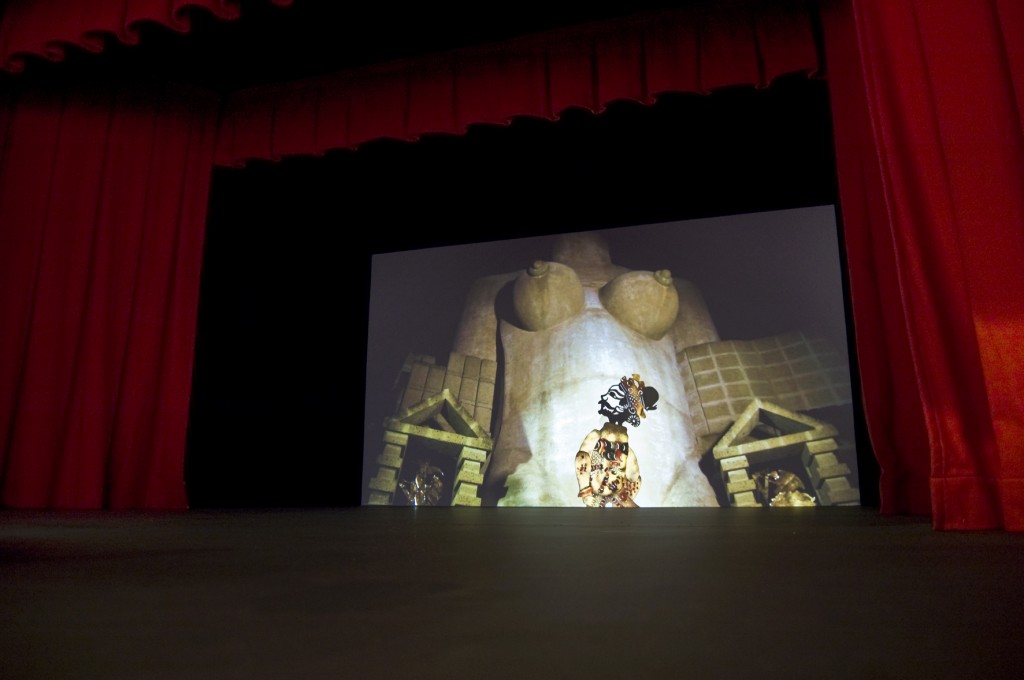 Una Turandiade Buzziana (in forma di note), 2011, veduta dell'installazione view
Buzzi's Turandot (in the shape of notes), 2011, installation view
Photo credit: Patrizia Tocci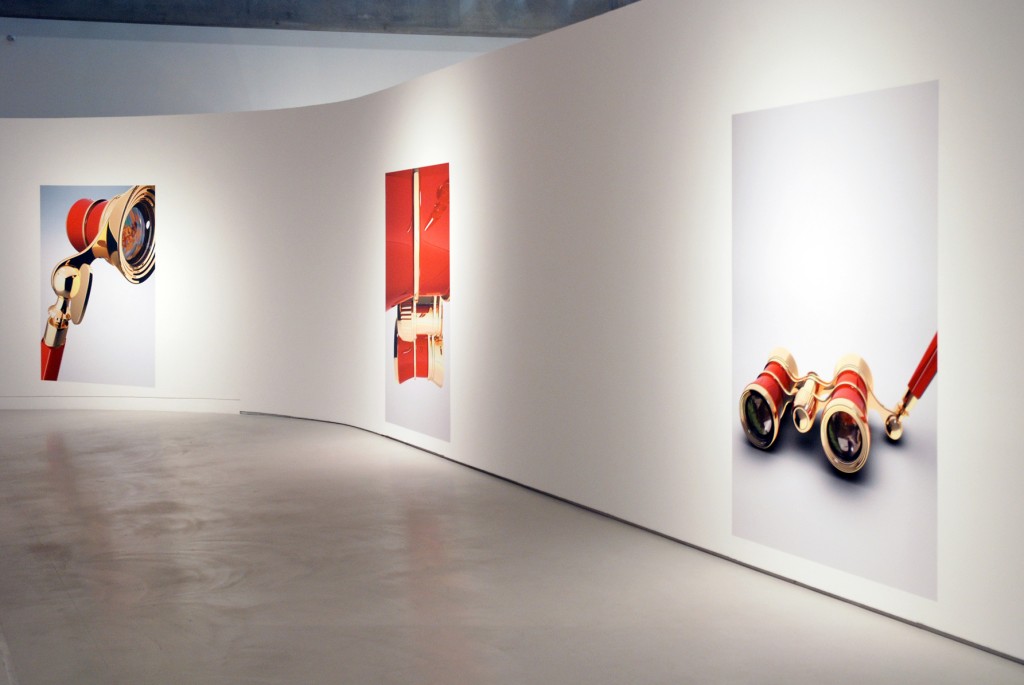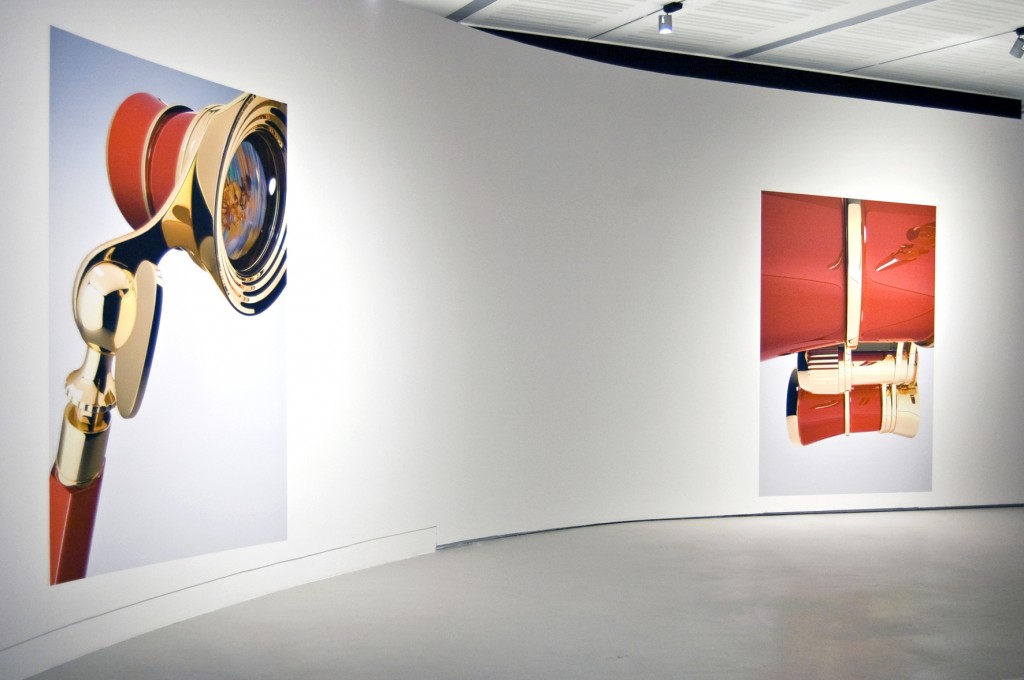 Una Turandiade Buzziana (binocoli), 2011, veduta dell'installazione
Buzzi's Turandot (in the shape of notes), 2011, installation view
Photo credit: Cecilia Fiorenza
p
p
PREMIO ITALIA ARTE CONTEMPORANEA 2012, MAXXI, ROME, JANUARY 27 – MAY 20 2012
Curated by Giulia Ferracci
With: Giorgio Andreotta Calò, Patrizio Di Massimo, Adrian Paci, Luca Trevisani
EN
He was selected by Francesco Manacorda, director of Artissima (Turin), and has been included among the finalists because "he is unique in Italy for his ability to combine telling criticism of the historiography of our country with innovative linguistic experimentation (…). In analysing the historical facts of Italian colonialism, the artist is in reality talking about our historic present and national identity, developing a strand of aesthetic and socio-political research into the propagandistic role of the "return to order" of the avant-gardes during periods of conservatism."
Patrizio Di Massimo examines various aspects of national identity, in a multidisciplinary practice which creates a narrative that is at once metaphysical and realistic. Buzzi's Turandot (In the Shape of Notes), his latest video work, creates a dialogue between two unfinished Italian masterpieces: a surreal, neo-mannerist construction entitled Scarzuola, designed by Tommaso Buzzi (1900-1981) in Montegiove, Umbria, and Turandot, the orientalist opera by Giacomo Puccini (1858-1924). The former, which was finished by Buzzi's nephew Marco Solari, and the latter, the last act of which was completed by the musician Franco Alfano, are placed in relation to each other through performance notes, musical excerpts, stage designs, and animations. In the artist's vision, Turandot has its ideal setting in Scarzuola, in a metaphorical encounter where history is intermingled with dreams, explanation with rhetoric, and performance with real life. What emerges is a lyrical tale that invites the spectator to reflect on a veritable cross-section of our culture.
The jury composed of Elena Filipovic curator at the WIELS Contemporary Art Center (Brussels), Udo Kittelmann, director of the Staatliche Museen (Berlin), Anna Mattirolo, director of MAXXI Arte, Jessica Morgan, The Daskalopoulos Curator at Tate Modern (London) and the artist Luigi Ontani, has selected the four finalists from a short list of artists born or resident in Italy and who are under 45 years of age.
IT
Selezionato da Francesco Manacorda Patrizio Di Massimo è stato inserito tra il finalisti perché "Il suo lavoro rappresenta un unicum in Italia per la sua capacità di fondere un'efficace critica alla storiografia del nostro paese con una sperimentazione linguistica innovativa. Il suo sguardo decostruisce la forma mentis italiana che la narrazione storica ufficiale ha prodotto, mettendo in luce le sue debolezze. A Di Massimo interessa la revisione storica dei fatti nella  relazione tra il linguaggio e la situazione. Attraverso la rivisitazione di alcuni luoghi emblematici della storia dell'arte nel dopoguerra ma soprattutto delle tracce lasciate dal fascismo nella cultura italiana di oggi, Di Massimo si confronta con le modalità subdole con cui si è articolato un certo immaginario collettivo italiano. Analizzando i fatti storici del colonialismo italiano l'artista parla in realtà non solo del passato ma del nostro presente storico e dell'identità nazionale percepita in gran parte come naturale e universale. Nei suoi lavori di Massimo avanza una tesi che non è solo estetica ma una ricerca socio-politica sul ruolo propagandistico del 'ritorno all'ordine' delle avanguardie artistiche durante periodi di conservatorismo. Il ricorso al passato come espediente viene svelato da Di Massimo come la strumentalizzazione del fatto storico trasfigurato in un'elaborazione mitologica, falsata per motivi ideologici."
Patrizio Di Massimo analizza i diversi aspetti legati all'identità nazionale mediante una pratica multidisciplinare, che dà corpo ad una narrazione insieme metafisica e realistica. Una Turandiade Buzziana (in forma di note) è la nuova opera video che mette in dialogo due capolavori italiani rimasti incompiuti: una costruzione surreale e neomanierista denominata Scarzuola, progettata da Tommaso Buzzi (1900 – 1981) a Montegiove, in Umbria, e la Turandot, opera lirica orientalista di Giacomo Puccini (1858 – 1924). La prima, portata a termine da Marco Solari, nipote di Buzzi, e la seconda, ultimata dal musicista Franco Alfano, che completò l'atto finale dell'opera lirica, sono entrambe messe in relazione attraverso note di scena, passaggi musicali, scenografie e animazioni. La Turandot trova infatti per l'artista la sua messa in scena ideale all'interno della Scarzuola, in un metaforico incontro dove la storia è mescolata al sogno, la spiegazione alla retorica, la performance alla vita reale. Ne deriva un raffinato racconto lirico che invita lo spettatore a riflettere su uno spaccato della nostra cultura.
La giuria del Premio Italia 2012 è composta da Elena Filipovic, curatore al WIELS Contemporary Art Center (Bruxelles); Udo Kittelmann, Direttore Staatliche Museen (Berlin); Anna Mattirolo, Direttore MAXXI Arte; Jessica Morgan, The Daskalopoulos Curator alla Tate Modern (Londra) e Luigi Ontani, artista.