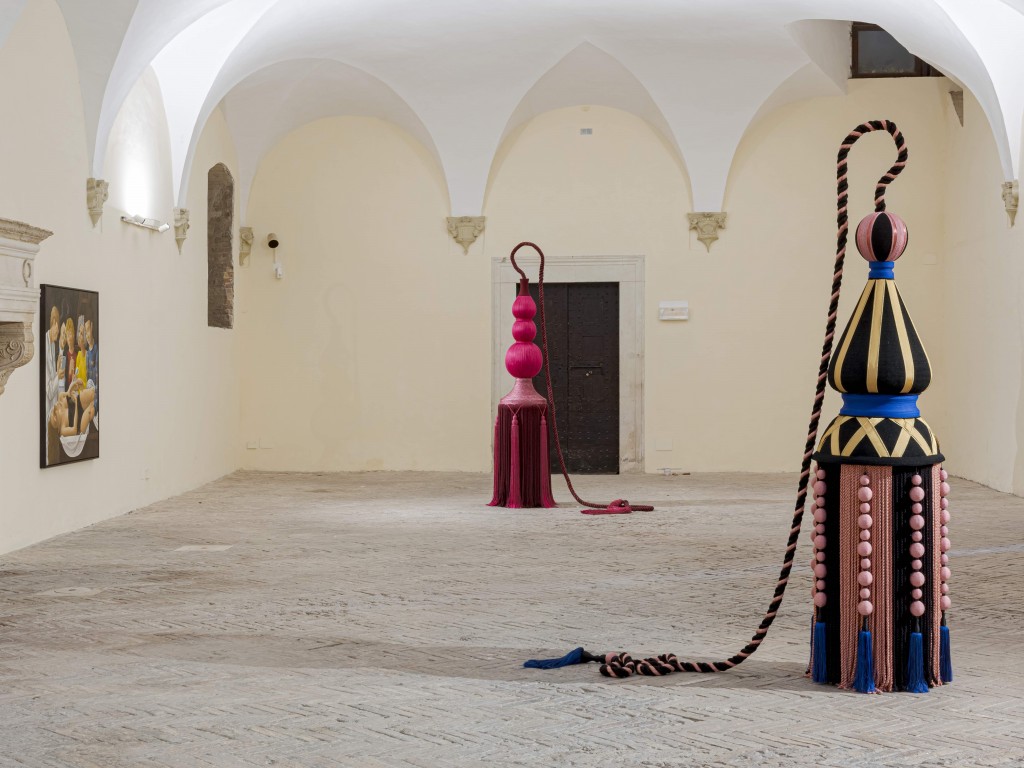 p
A cura di Massimo Vitangeli
Palazzo Ducale, Grande Cucina, dal 21 marzo 2019 al 6 gennaio 2020
Patrizio Di Massimo
Dal 28 novembre 2019 al 6 gennaio 2020
SPAZIO K nasce nel 2017 nella Grande Cucina dei Sotterranei del Palazzo Ducale di Urbino per volontà di Peter Aufreiter, direttore della Galleria Nazionale delle Marche | Palazzo Ducale di Urbino, con l'intento di creare uno spazio permanente per l'arte contemporanea rivolto ai giovani artisti emergenti nati nelle Marche, o fortemente legati al territorio marchigiano, fuori dal circuito formativo.
In questa terza edizione dal titolo Il Tempo Dello Sguardo a cura di Massimo Vitangeli, saranno in mostra Paola Pasquaretta, Andrea Nacciarriti, Luisa Mé, Daniele Bordoni, Paola Tassetti, Filippo Berta, Patrizio Di Massimo. Il Tempo Dello Sguardo, tributo a Georges Didi-Huberman e al suo saggio Davanti all'immagine, è un'idea di rassegna che vede l'opera d'arte decentrata all'interno del paradigma dell'immagine, dove l'opera viene intesa come montaggio di tempi differenti che servono spesso a porre nuove questioni d'intellegibilità, in particolare quando riescono a comporre un ritmo particolare mostrando il battito vitale dell'opera. Un ritmo antropologico dell'arte che si confronta con il vedere contemporaneo rimettendo in gioco i regimi abituali della rappresentazione, aprendo lo sguardo verso un Sapere rivoluzionario fondativo del patrimonio artistico e culturale del Palazzo Ducale. Gli artisti invitati, in tale ottica, svilupperanno progetti incentrati ed evocativi dell'importante stratificazione culturale e artistica, rappresentata nella Galleria Nazionale delle Marche, dai magnifici maestri come Piero della Francesca, Paolo Uccello, Raffaello, o ne elaboreranno i concetti, le idee, le nozioni e le astrazioni edificando quella sensibilità profonda percettiva e cognitiva allo stesso tempo, che si muove perlopiù su terreni inediti e attraverso precise modalità di scrittura.
Come testimonianza degli eventi alla fine del ciclo delle mostre sarà prodotto e presentato un catalogo finale che raccoglierà tutti i progetti realizzati, la documentazione della messa in opera degli allestimenti e le inedite relazioni create tra i linguaggi dell'arte contemporanea e gli storici spazi di Palazzo Ducale.
Artista in mostra Patrizio Di Massimo
Il lavoro di Patrizio Di Massimo si presenta come uno sguardo ipertrofico universalmente libero, con una letteratura personale e intima costituita da rimandi e citazioni del passato, dimensioni domestiche e rituali del presente, che confluiscono in raffinate ed emblematiche forme di rappresentazione.
L'artista ci trasporta nelle nicchie più celate dell'esistenza utilizzando ciò che più l'attrae, ciò che vede e sente della condizione umana, rianimando indizi mitologici e apparenti banalità quotidiane che agiscono sulla mente per ricordare qualcosa ad altri o a sé stesso.
La mostra è costituita da due sculture, I Am Heraldic (2018) e I Am Magenta (2018), e dal dipinto Red, Blue and Yellow (2016).
Le due sculture sono frutto della ricerca degli ultimi anni dell'artista che spiccano per la loro fascinosa esuberanza decorativa, esse sono nappe di grandi dimensioni realizzate a mano con diversi materiali intrecciati o tessuti con ossessiva meticolosità che non trascura alcun dettaglio, confermando quanto la magnifica sapienza del saper costruire abiliti il concetto di decorativismo a paradigma di bellezza.
Il dipinto Red, Blue and Yellow (2016), si presenta come una sorta di deposizione desacralizzata, quasi filmica, dove i riferimenti alla classicità convivono con la mitologia del nostro tempo proiettandoci in un passato presente, in cui arte e scienza medica convergono grottescamente nella rivelazione estetica della sofferenza umana.
---
Curated by Massimo Vitangeli
Ducal Palace, Great Kitchen, from March 21st 2019 to January 6th 2020
Patrizio Di Massimo
From November 28th 2019 to January 6th 2020
SPAZIO K was founded in 2017 in the Great Kitchen of the Basement of the Ducal Palace in Urbino by Peter Aufreiter, director of the National Gallery of the Marche | Ducal Palace, with a view to create a permanent space for contemporary art aimed at emerging young artists born in or strongly connected to the Marche region, beyond the training courses.
In this third edition entitled The Time of the Look curated by Massimo Vitangeli, Paola Pasquaretta, Andrea Nacciarriti, Luisa Mé, Daniele Bordoni, Paola Tassetti, Filippo Berta and Patrizio Di Massimo will be on show. The Time of the Look, as a tribute to Georges Didi-Huberman and his essay Devant l'image, is an idea of exhibition that sees the artwork decentralized within the paradigm of the image, where it is intended as the assembly of different times that often help to pose new questions of intelligibility, especially when they succeed in composing a particular rhythm showing the vital beating of the work. An anthropological rhythm of art that is confronted with the contemporary look by putting back in play the habitual rules of representation, looking towards a revolutionary Knowledge that founded the artistic and cultural heritage of the Ducal Palace. In this perspective, the invited artists will develop projects focused on and evocative of the important cultural and artistic stratification, represented in the National Gallery of the Marche by the magnificent masters such as Piero della Francesca, Paolo Uccello, Raphael, or they will elaborate their concepts, ideas, notions and abstractions building up that deep sensitivity, both perceptive and cognitive, which moves mostly on new ground and through precise ways of expression.
At the end of the series of exhibitions, a final catalog will be published and presented to collect all the projects realized, the documentation of the set-ups as well as the unprecedented relationships created between the languages of contemporary art and the historic spaces of the Ducal Palace.
Artist on show Patrizio Di Massimo
Patrizio Di Massimo's work appears as a universally free hypertrophic, with a personal and intimate literature made up of cross references and quotations from the past, domestic dimensions and rituals of the present which merge into refined and emblematic forms of representation.
The artist carries us to the most hidden corners of existence, using what attracts him the most, what he sees and feels about the human condition, reviving mythological hints and apparent daily banalities that affect the mind to recall something to others or to himself.
The exhibition consists of two sculptures, I Am Heraldic (2018) and I Am Magenta (2018), and the painting Red, Blue and Yellow (2016).
The two sculptures are the result of the artist's last years of research which stand out for their fascinating decorative exuberance. They are large handmade tassels braided or woven with different materials and obsessive meticulousness that does not overlook any detail, proving how the magnificent expertise of knowing how to craft elevates the concept of decorativism to a paradigm of beauty.
The painting Red, Blue and Yellow (2016) appears as a sort of desacralized, almost filmic deposition, in which references to classicism coexist with the mythology of our time, projecting us into a present past, where art and medical science grotesquely converge in the aesthetic revelation of human suffering.
Patrizio Di Massimo (b. 1983, Italy) lives and works in London, where he graduated from the Slade School of Art. Solo shows include: KURA., Milan (2019), ChertLüdde, Berlin (2018), Rodolphe Janssen, Brussels (2017), NICC, Brussels (2016), Monteverdi, Tuscany (2015), T293, Rome (2014), Kunsthalle Lissabon, Lisbon (2014), Gasworks, London (2013), Villa Medici, Rome (2012). Recent group include: Tale of a Tub (2019), Museion (2018), EVA International, Limerick (2018), Hangar Bicocca, Milan (2017), CURA Basement, Rome (2016), Fiorucci Art Trust, London (2015), Triennale di Milano (2015), MUHKA, Antwerp (2014), Castello di Rivoli (2014), Fondazione Sandretto Re Rebaudengo, Turin (2013), MAXXI, Rome (2012).