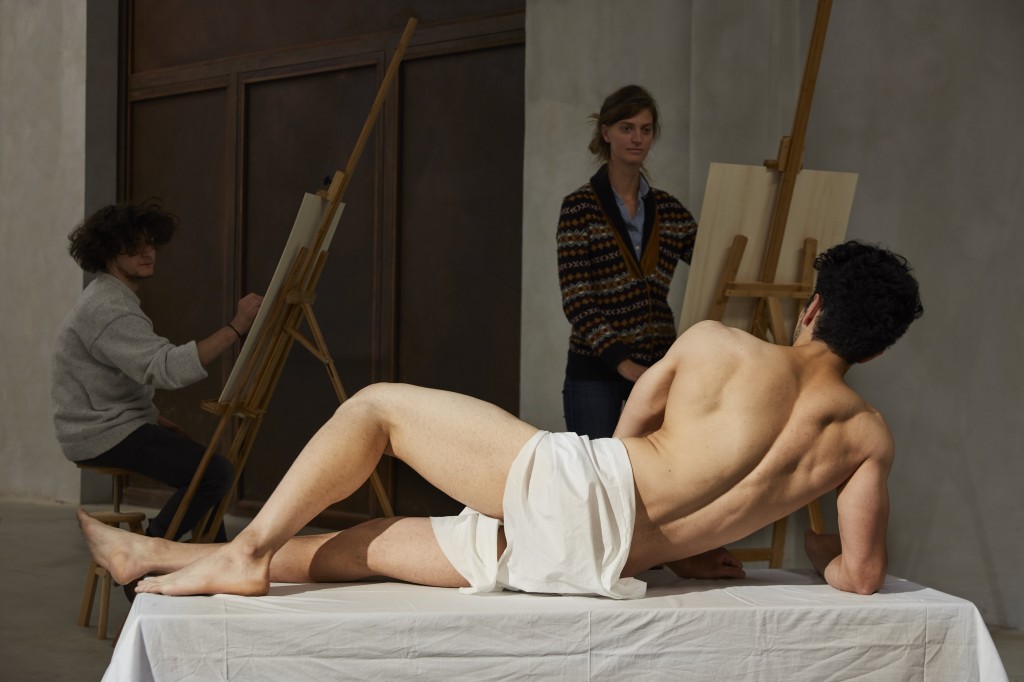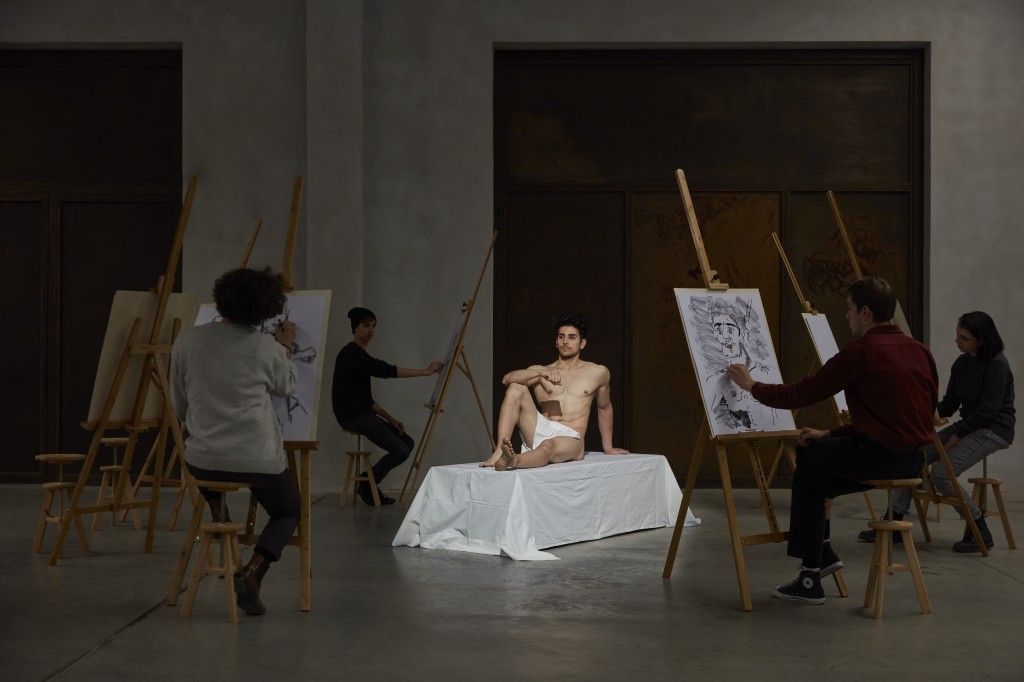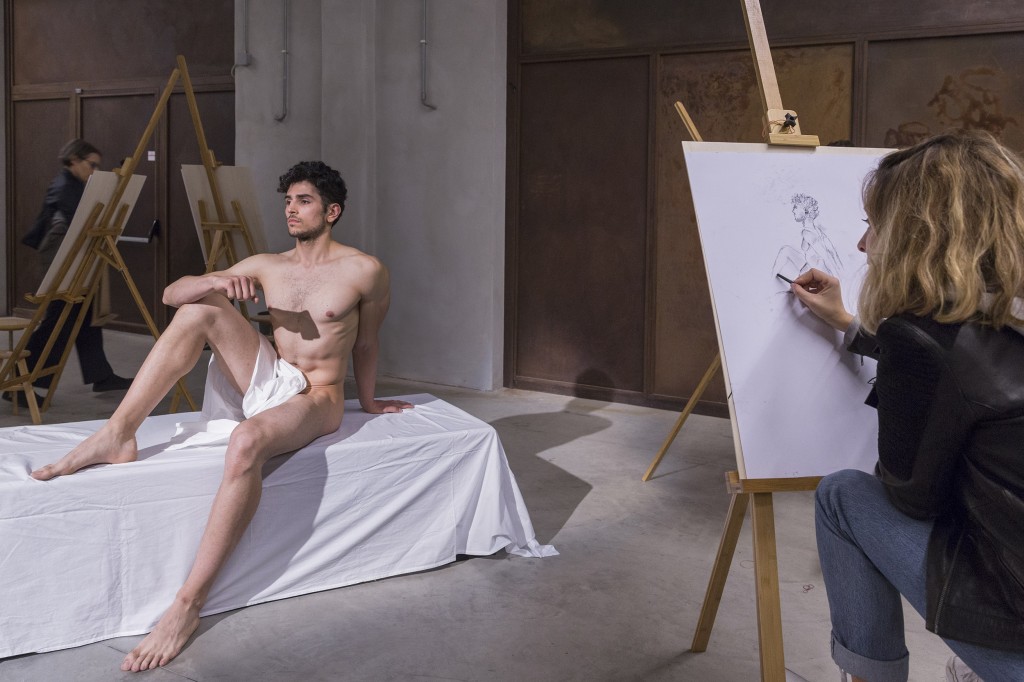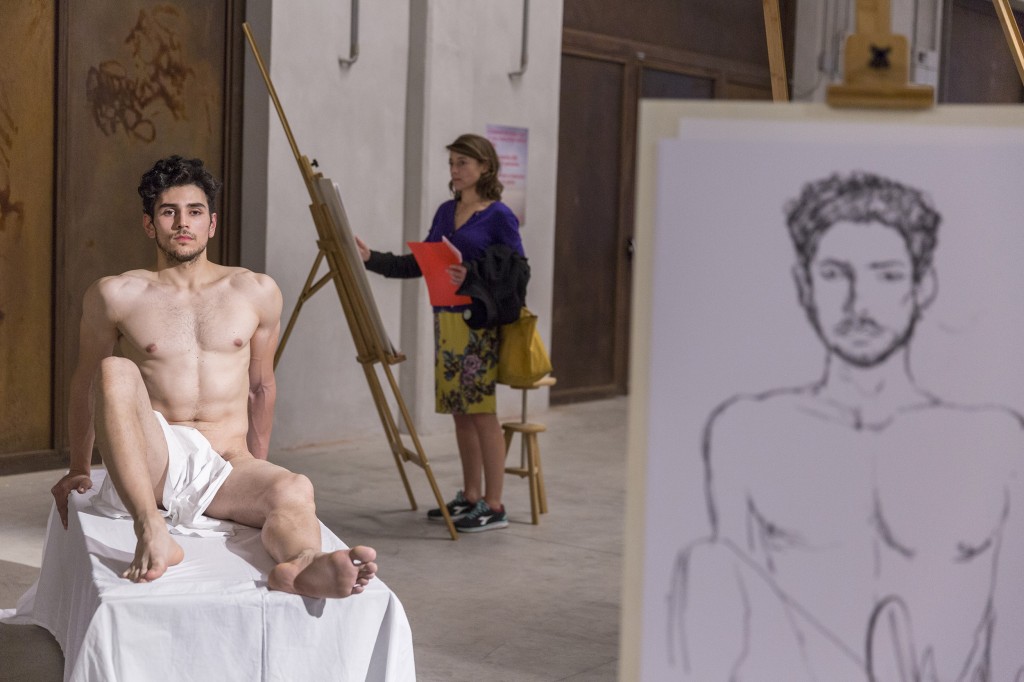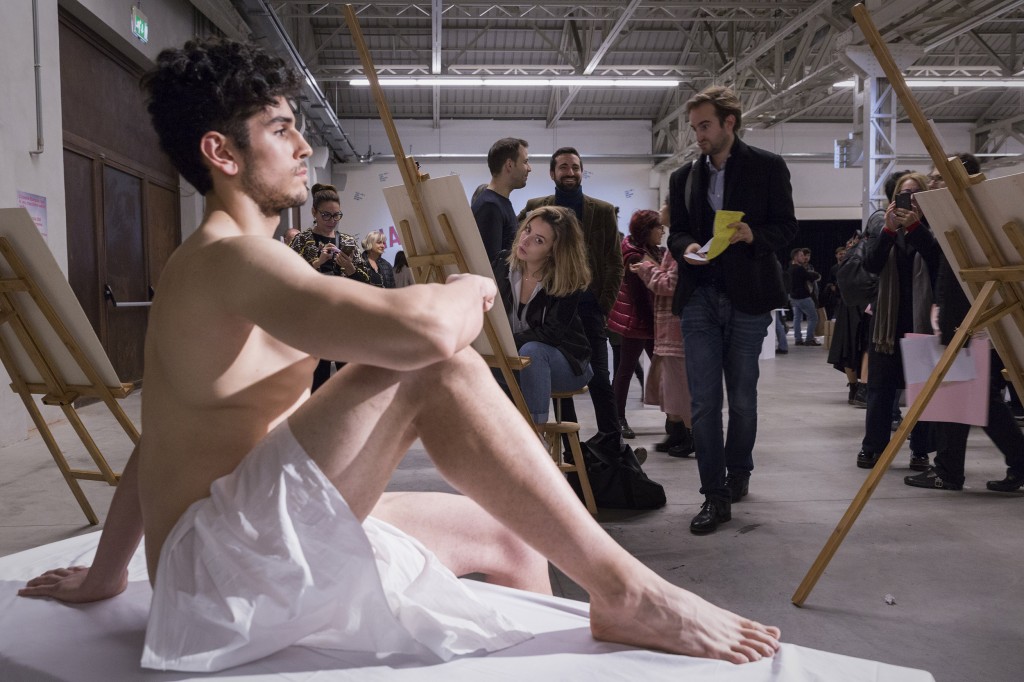 Patrizio Di Massimo, Self-Portrait as a Model 
(Take Me, I am Yours), 2017. Courtesy Patrizio Di Massimo, T293, Rome and Pirelli HangarBicocca, Milan.
Photo: Lorenzo Palmieri
p
p
With Aaajiao, Etel Adnan, Rosa Aiello, Giorgio Andreotta Calò, Micol Assaël, Gianfranco Baruchello, Christian Boltanski, Mohamed Bourouissa, James Lee Byars, Luis Camnitzer, Maurizio Cattelan, Ian Cheng and Rachel Rose, Heman Chong, Jeremy Deller, Patrizio Di Massimo, Simone Fattal, Hans-Peter Feldmann, Yona Friedman, Martino Gamper, Mario García Torres, Alberto Garutti, Gilbert & George, Dominique Gonzalez-Foerster, Félix González-Torres, Douglas Gordon, Carsten Höller, Jonathan Horowitz, David Horvitz, Adelita Husni-Bey, Pierre Huyghe, Alex Israel, Koo Jeong A, Alison Knowles, Ugo La Pietra, Armin Linke, Angelika Markul, Annette Messager, Gustav Metzger, Bruce Nauman, Otobong Nkanga, Yoko Ono, Luigi Ontani, Sarah Ortmeyer and Friederike Mayröcker, Riccardo Paratore, Sondra Perry, Cesare Pietroiusti, point d'ironie, Ho Rui An, Anri Sala, Tino Sehgal, Daniel Spoerri, Wolfgang Tillmans, Rirkrit Tiravanija, Franco Vaccari, Francesco Vezzoli and Lawrence Weiner
Curated by Christian Boltansky, Hans Ulrich Obrist, Chiara Parisi, Roberta Tenconi
"Take Me (I'm Yours)" is a group exhibition that rewrites the rulebook for experiencing a work of art. Visitors to the show are invited to flout convention and do all the things they aren't normally allowed to do in a museum: the works can be touched, used, or changed; they can be consumed or worn; purchased and even taken free of charge, or carried off in exchange for some personal item.
The exhibition is also a project that continues to evolve and be transformed. At "Take Me (I'm Yours)," the public can not only take home one of the thousands of copies of each work—helping to physically empty out the space—but alter the appearance of the show by taking part in performances where the interaction may involve an experience rather than an object, in keeping with the notion of immateriality that increasingly pervades both art and everyday life.
Presented for the first time in 1995 at the Serpentine Gallery in London—and in varying iterations in Paris, Copenhagen, New York and Buenos Aires from 2015 on—the exhibition grew out of a series of conversations between curator Hans Ulrich Obrist and artist Christian Boltanski about the need to rethink how artworks are shown. Specifically, the project concept began with Quai de la Gare(1991), a Boltanski piece made up of piles of used clothing that visitors could pick out and carry off in a bag printed with the word "Dispersion": a work innately destined to scatter and vanish.
In Milan, alongside Christian Boltanski's Dispersion, the works of over fifty artists will be installed in the thousand-square-meter Shed at Pirelli HangarBicocca, also popping up outside the exhibition space with projects for the catalogue, bookshop, and web. "Take Me (I'm Yours)" therefore becomes a vast arena for imagining a more direct, engaging way to experience art, where the idea of giving and receiving helps us look at the broader social and historical picture of our time in a different light.