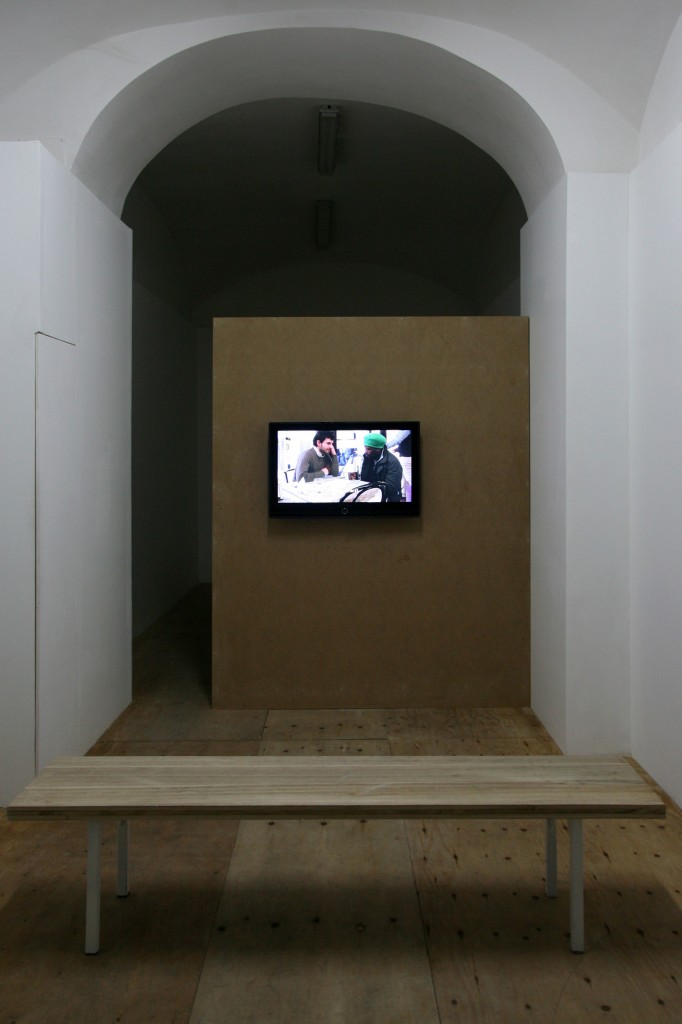 Duet for Cannibals, 2009, Installation view at T293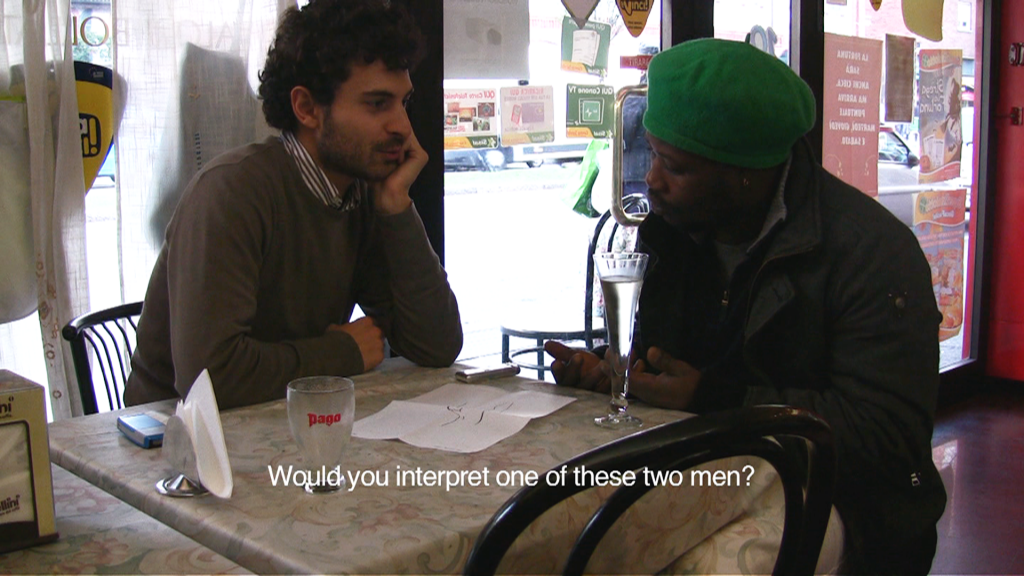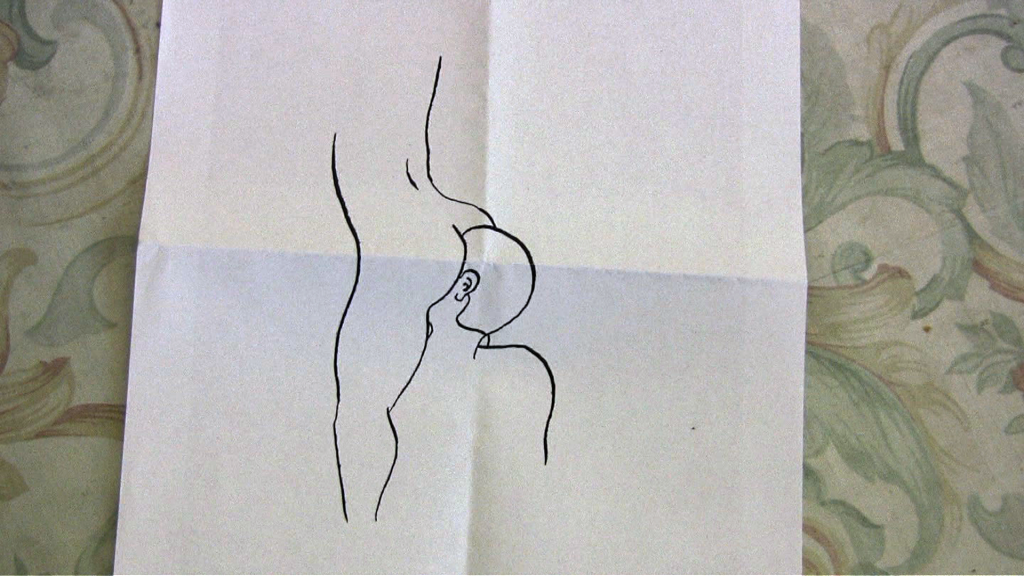 Duet for Cannibals, 2009, stills from video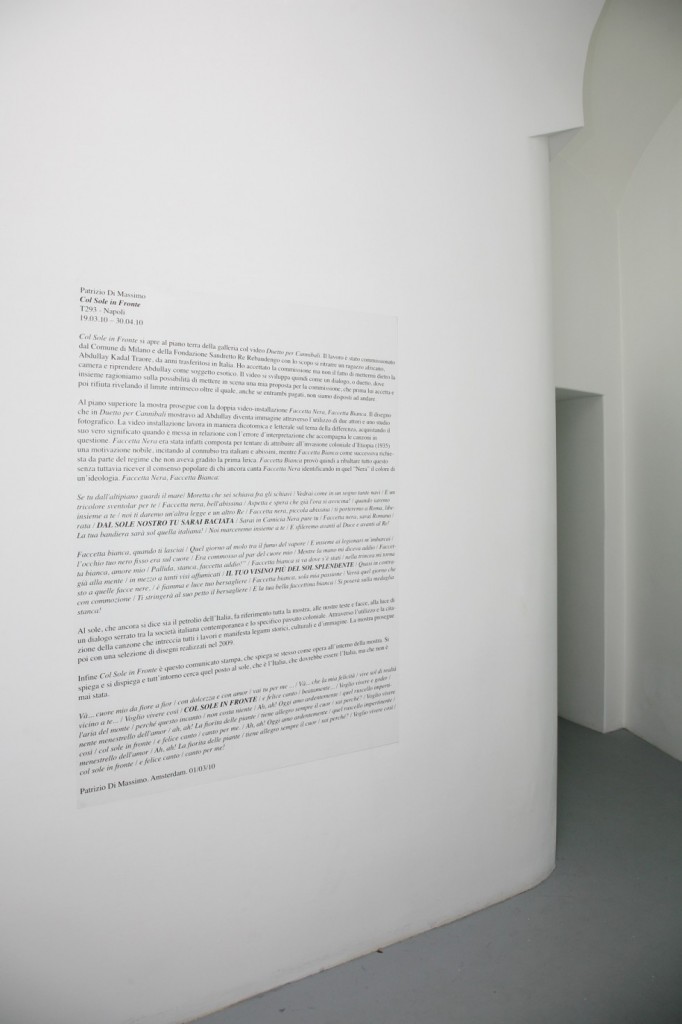 Col Sole in Fronte, 2010, Installation view at T293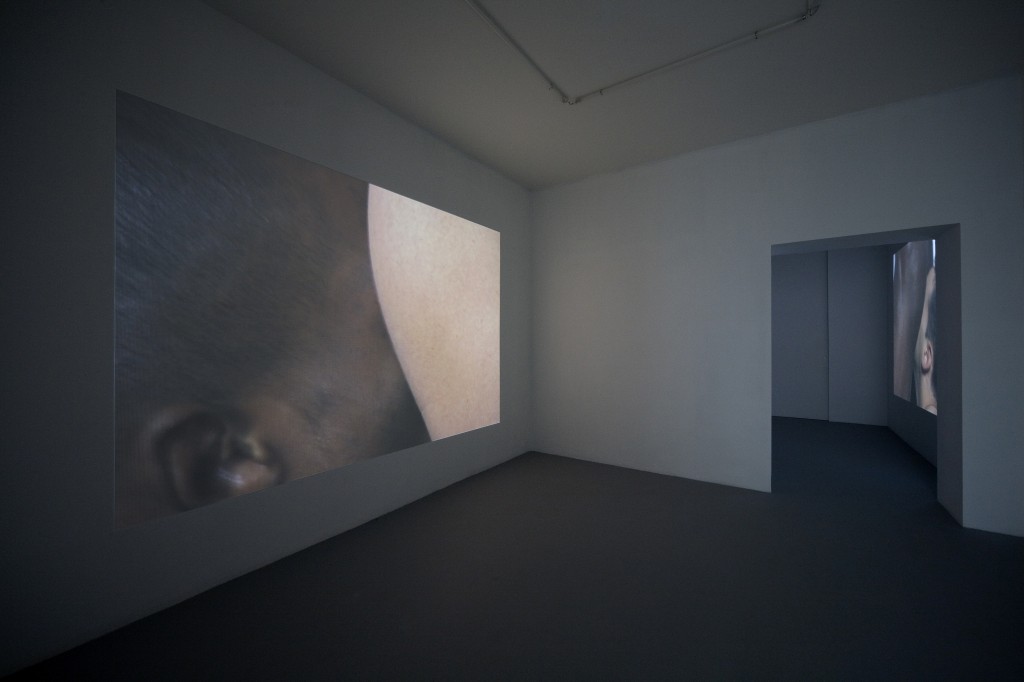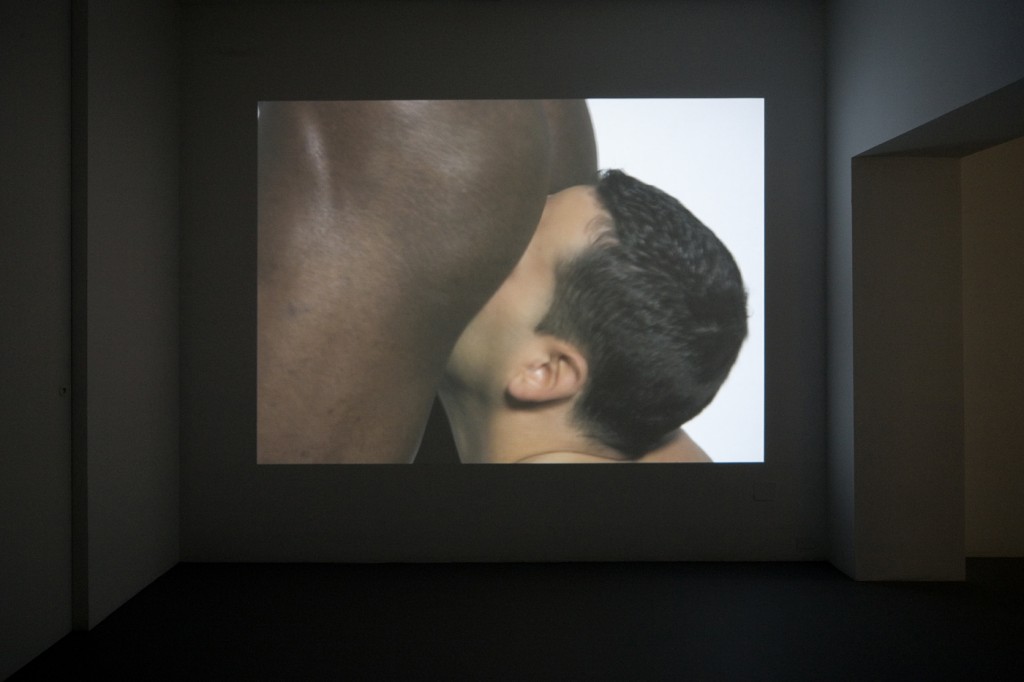 Faccetta Nera, Faccetta Bianca, 2010, Installation view at T293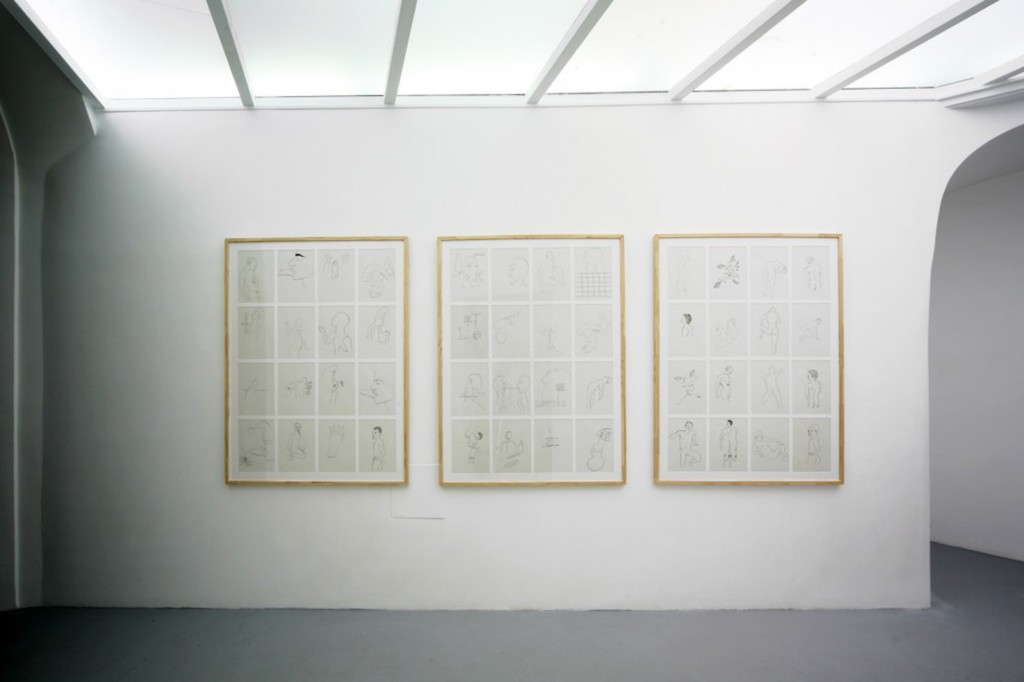 Drawings, Installation view at T293
COL SOLE IN FRONTE, T293 GALLERY, NAPLES, MARCH 19 – APRIL 30 2010
Col Sole in Fronte (Italian, With the sun in front of me) begins on the ground floor of the gallery with the video Duets for Cannibals. This work was commisioned by Milan City Council and Sandretto Re Rebaudengo Foundation in order to make a portrait of an African boy, Abdullay Kadal Traore, who has been living in Italy for several years. I accepted that request but not standing behind the camera and filming Abdullay as an exotic subject. The video becomes thus a dialogue or a duet  in which we reason together about staging my proposal for the commission that he initially accepts and then rejects, revealing the intrinsic limit that we are not disposed to go beyond although we are both paid.
On the first floor, the exhibition continues with a double video installation Faccetta Nera, Faccetta Bianca (Italian, Little Black Face, Little White Face). The drawing that I showed to Abdullay in Duets for Cannibals becomes an image through the use of two actors and a photography study. The video installation examines the problem of difference with a dichotomic and literal attitude, and it gains its real meaning when is combined with the mistaken interpretation in the songs in question. In fact, Faccetta Nera was composed in order to attribute a noble motivation to the Ethiopia's colonial invasion (1935) encouraging the Italian and the Abyssinian to unite; while Faccetta Bianca was the subsequent request of the regime that didn't relish the first song. Facceta Bianca attempted to overturn it, however it did not gain a general acceptance among those who still sing Faccetta Nera identifying that "Black" as the ideology colour. Faccetta Nera, Faccetta Bianca:
If you look at the sea from the hills/Young negro slave amongst slaves/Like in a dream you will see many ships/And a tricolour waving for you/Little black face, beautiful Abyssinian/Wait and see the hour coming!/When we will be with you/We will give you another law and another king/Little black face, beautiful Abyssinian/Our law is slavery of love/We will take you to Rome freed/YOU WILL BE KISSED BY OUR SUN/and a black shirt you will be too/Little black face, you will be Roman/Your only flag will be Italian!/We will march together with you/and parade in front of the Duce and the king
Little white face, when I left you/That day on the pier in the steam/With the legionnaires I embarked/And your black eye gazing at the heart/It was equally moved as mine/While your hand was saying goodbye to me/Little white face, my love/Goodbye little, pale, tired face!/Little white face, one goes where one's already been/in the trench, already on my mind again/among so many misty faces/IS YOUR LITTLE FACE, BRIGHTER THAN THE SUN/Nearly contrasting these black faces/your sharpshooter is a flame and a light/Little white face, my only passion/The day the sharpshooter will clasp you tightly to his chest with emotion/will come/Little white face, one goes where one's already been/And your little, beautiful, white face/Will rest on a tired medal!
The exhibition pertains to the sun, that is said to be Italy's petroleum, to our heads and faces, to the intensive dialogue between the Italian contemporary society and its specific colonial past. The Italian song, through its use and quotation, interweaves all the works in the show and expresses historical, cultural and image ties. The exhibition also includes a rich selection of drawings made in 2009.
Col Sole in Fronte is then this press release that explains itself as an artwork within the exhibition. It explains and extends itself all around looking for that place in the sun which is Italy, which should be Italy, but has never been.
Go…my heart, from flower to flower/with sweetness and with love/go you for me…./Go…since my happiness/WITH THE SUN IN FRONT (OF ME)/and happy I sing/blissfully…/I wanna live and enjoy/the air of the mountain/'cause this enchantment/costs nothing!/Ah, ah! Today I ardently love/that impertinent creek, minstrel of love/Ah, ah! The blossoming of the trees/keeps in feast this heart/do you know why?/I wanna live like this/with the sun in front (of me)/and happy I sing/I sing for me!/Ah, ah! Today I ardently love/that impertinent creek, minstrel of love/Ah, ah! The blossoming of the trees/keeps in feast this heart /do you know why?/I wanna live like this/ with the sun in front (of me)/and happy I sing/I sing for me!/
Patrizio Di Massimo. Amsterdam. 01/03/10