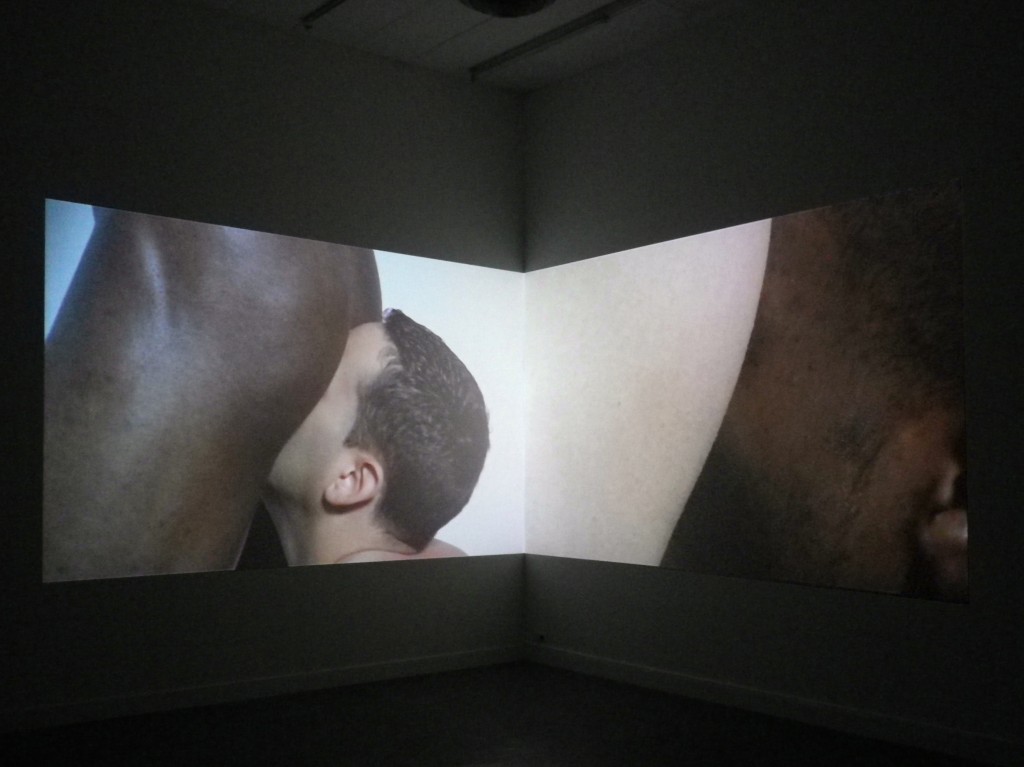 Faccetta Nera, Faccetta Bianca, Installation view, Magasin
SI – SINDROME ITALIANA, MAGASIN, GRENOBLE, OCTOBER 10 2010 – JANUARY 1ST 2011
General curator of the event and curator of the exhibition : Yves Aupetitallot.
Delegated curator for the coordination of the program of performances : Inge Linder-Gaillard.
Associated curator in charge of the colloquium The Practitioners, Curating & Publishing, the Open Office project, and the newspaper Transmission : Veronica Valentini
Le MAGASIN is devoting the 2010 autumn season to SI Sindrome Italiana, a number of events dedicated to the young curatorial and publishing scenes in Italy subsequent to the generation of Maurizio Cattelan.
Some 40 of these artists, born in the 1970s and 1980s, have been invited to present recent works, or ones created for the occasion, in thematic groups developed in the exhibition galleries and the central glass-covered space known as "la Rue". Associated with the exhibition is a a colloquium devoted to the contemporary Italian publishing and curatorial scenes The Practitioners : Curating & Publishing, which will take place on the opening day, Saturday 9 October, and the Open Office project, organized with young Italian independent publishers. The newspaper Transmission will accompany the exhibition.
While most of these artists were educated in Italy, they now live and work in London, Paris, Berlin, New York, etc… But if the artists seem to be scattered across the world, exhibition organizers of the same generation have followed the same path. SI Sindrome Italiana is symptomatic of this phenomenon. It reflects a highly successful artistic system whose action has found support from a few institutions and from above all the organization of local autonomous initiatives with international resonance, organized by high-profile individuals. A
program of performances will take place for the opening on Saturday 9 October from 6pm.
Perfomances by: Sabina Grasso, Francesco Arena, Alex Cecchetti, Linda Fregni Nagler, Manuel Scano.
List of artists: Giorgio Andreotta Calò, Meris Angioletti, Salvatore Arancio, Francesco Arena, Rosa Barba, Francesco Barocco, Rossella Biscotti, Lupo Borgonovo, Alex Cecchetti, Danilo Correale, Rä Di Martino, Patrizio Di Massimo, Lara Favaretto, Luca Francesconi, Linda Fregni Nagler, Christian Frosi, Giuseppe Gabellone, Martino Gamper, Francesco Gennari, Piero Golia, Sabina Grasso, Massimo Grimaldi, Renato Leotta, Claudia Losi, Marzia Migliora, Seb Patane, Pennacchio Argentato, Diego Perrone, Paola Pivi, Riccardo Previdi, Pietro Roccasalva, Matteo Rubbi, Andrea Sala, Manuel Scano, Marinella Senatore, Giulio Squillacciotti, Alberto Tadiello, Santo Tolone, Luca Trevisani, Patrick Tuttofuoco, Nico Vascellari, Francesco Vezzoli.