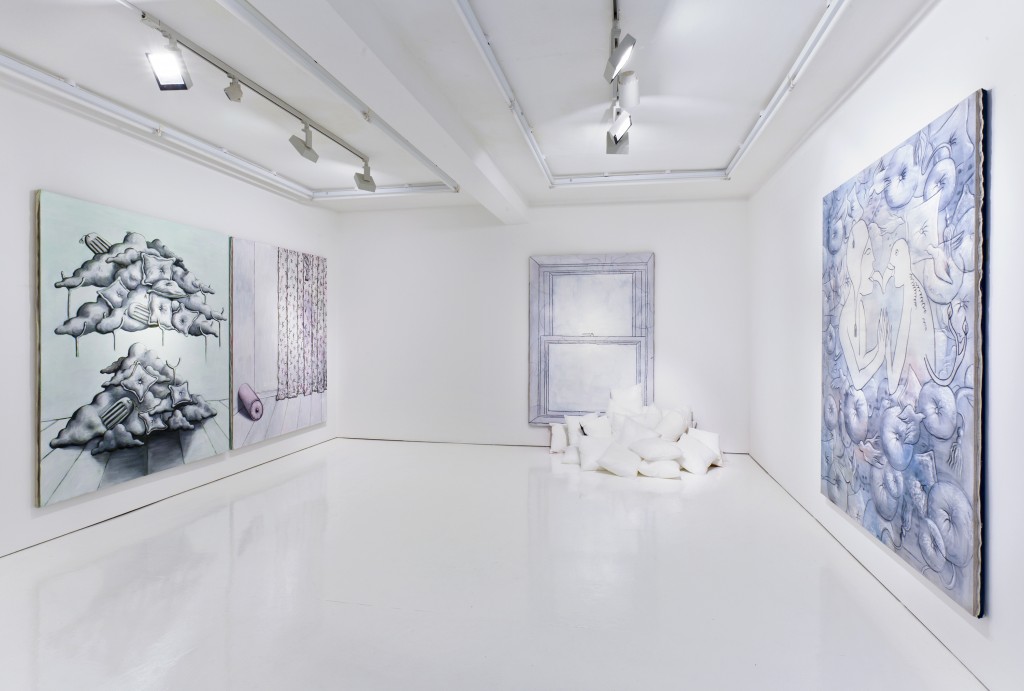 The Mistress, Curtain no.11 (Soft corners lining white), Moxibustion, Soft corners lining white,
Every cloud has a silver lining, French Kiss
Installation view Rowing, London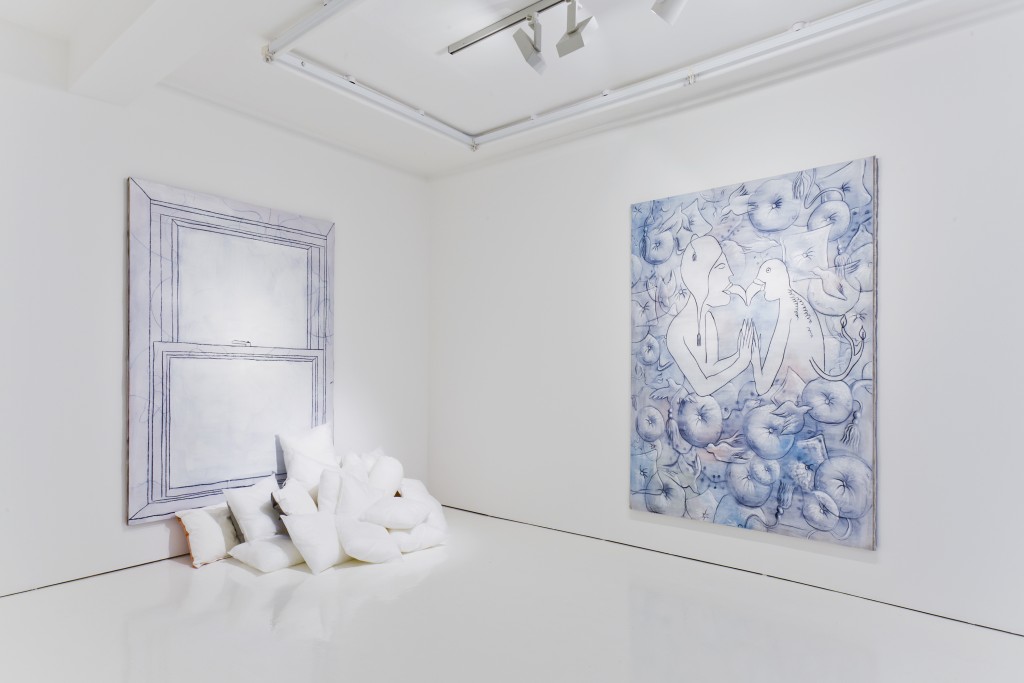 Every cloud has a silver lining, French Kiss
Installation view Rowing, London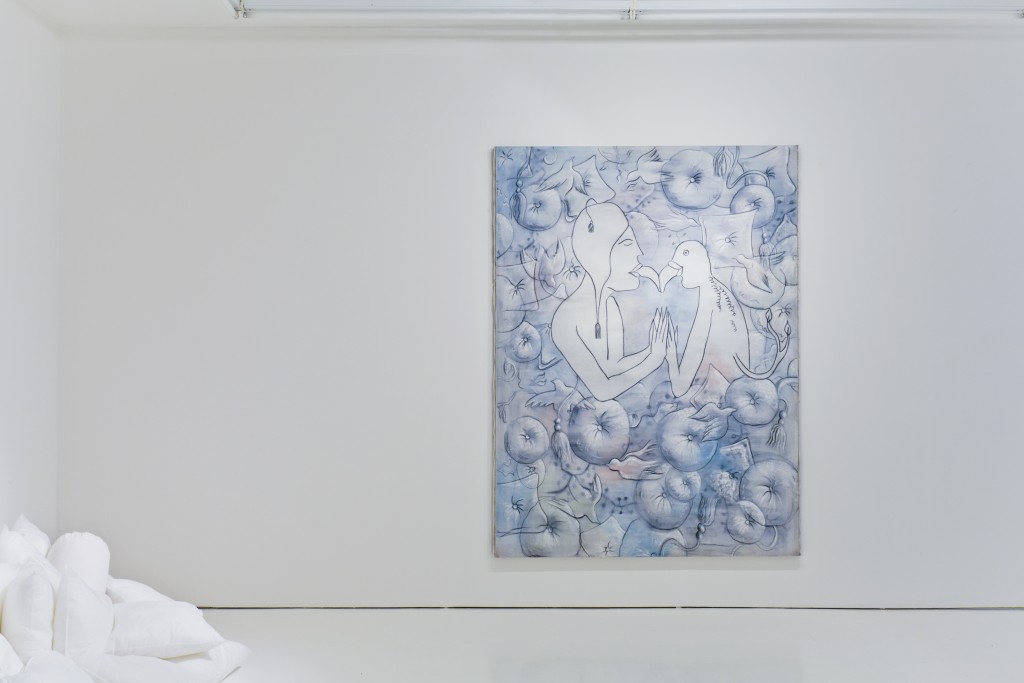 French Kiss
Installation view Rowing, London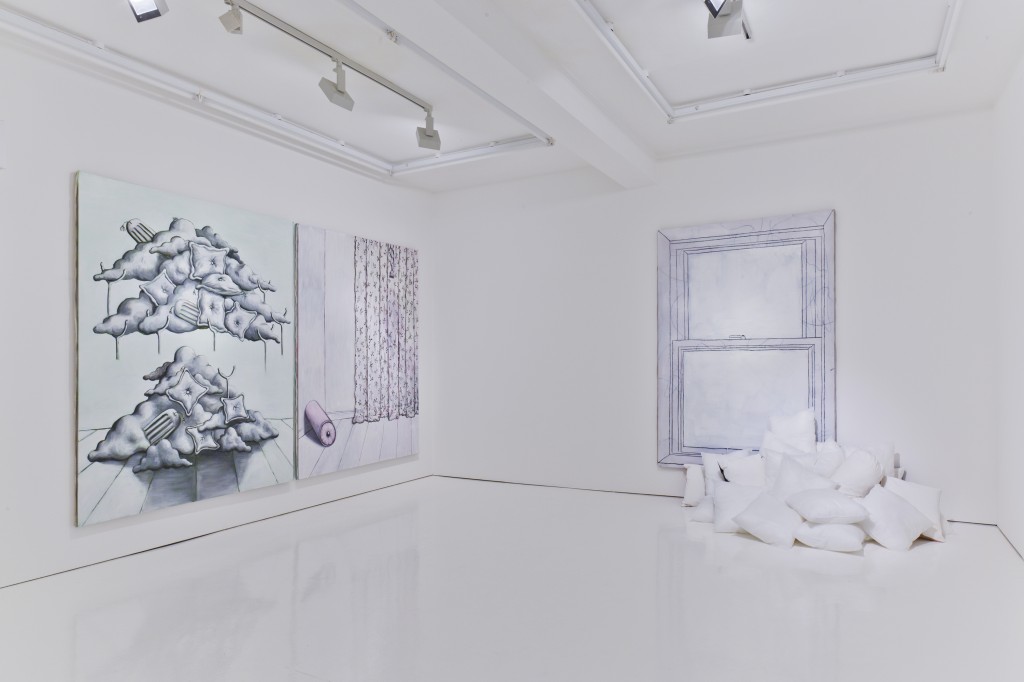 Moxibustion, Soft corners lining white, Every cloud has a silver lining
Installation view Rowing, London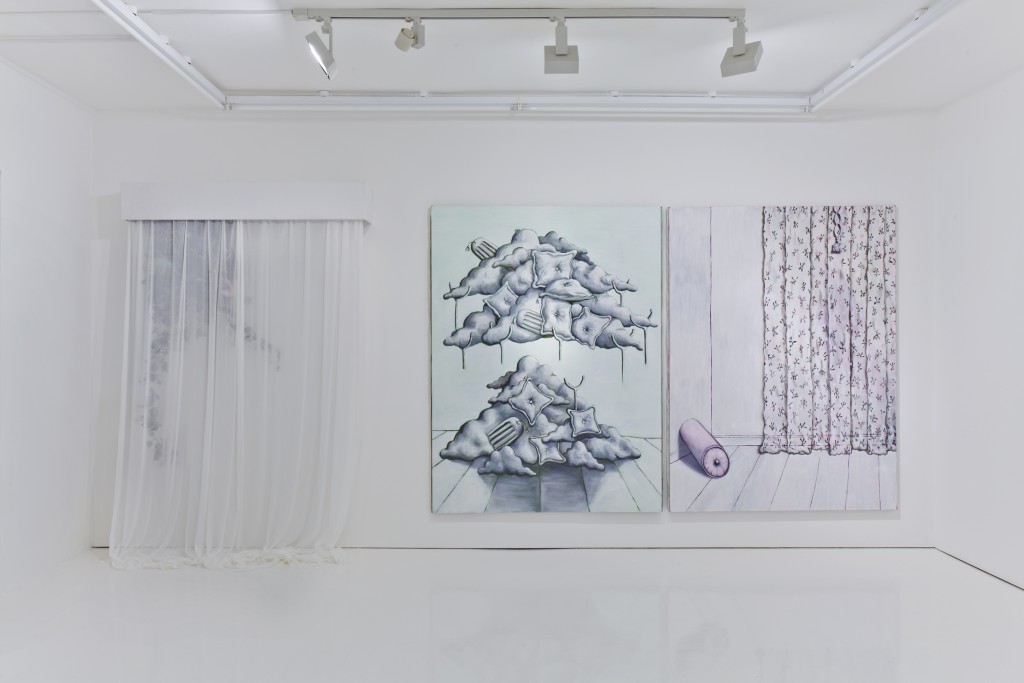 Curtain no.11 (Soft corners lining white), Moxibustion, Soft corners lining white
Exhibition view Rowing, London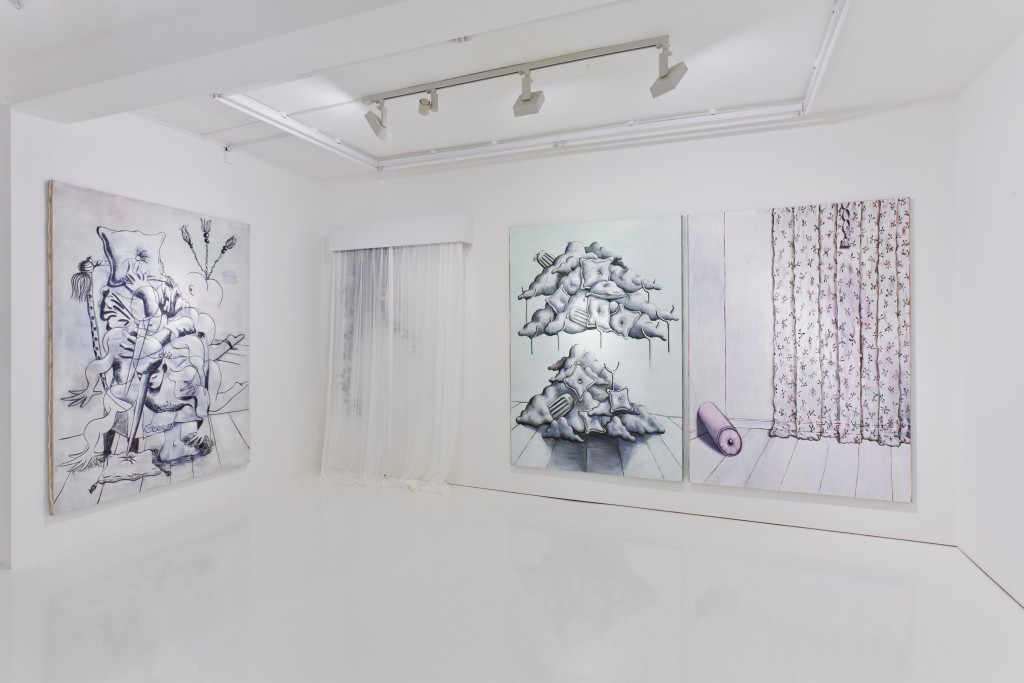 The Mistress, Curtain no.11 (Soft corners lining white), Moxibustion, Soft corners lining white
Exhibition view Rowing, London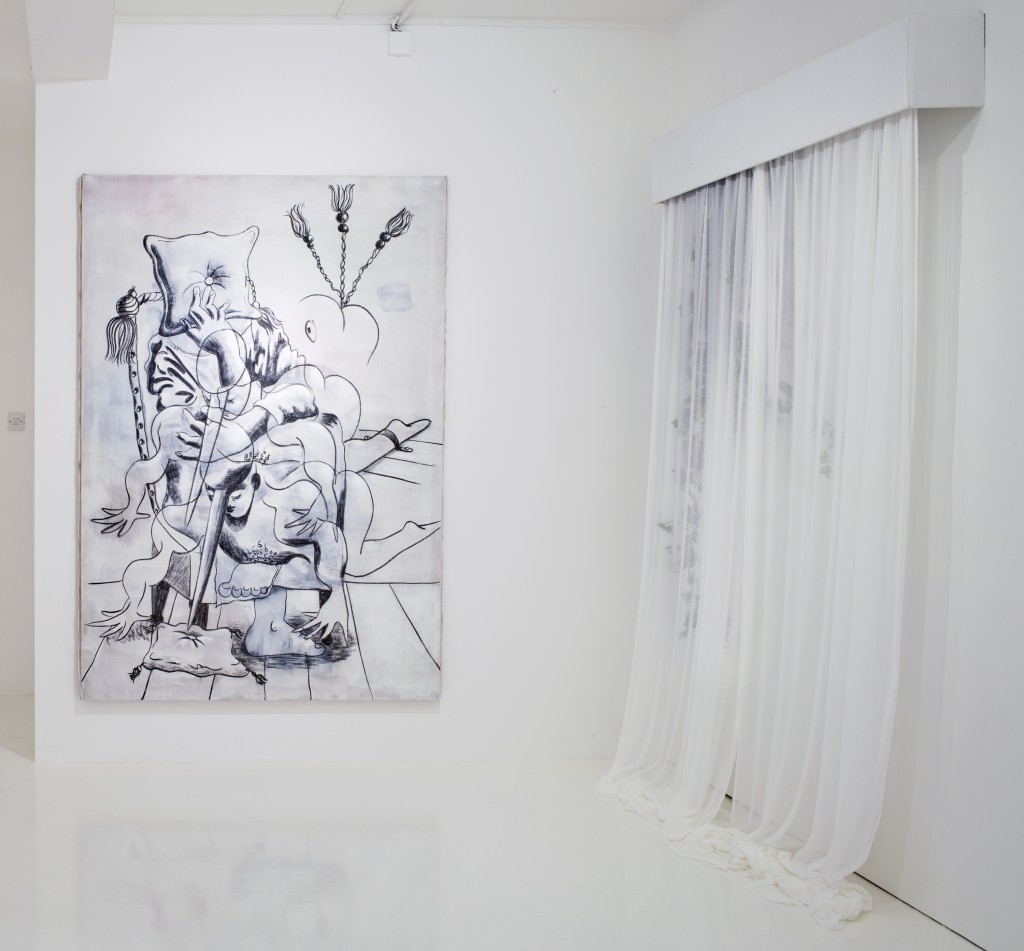 The Mistress, Curtain no.11 (Soft corners lining white)
Exhibition view Rowing, London
p
p
SOFT CORNERS LINING WHITE, ROWING, LONDON, MAY 27TH – JULY 19TH 2014
For his solo exhibition at Rowing, Soft Corners Lining White, London-based artist Patrizio Di Massimo has created a new installation comprising stacked cushions and domestic furnishings together with a new series of large-scale paintings. Di Massimo's paintings and installations include moments of personification and metaphorical representations of the family, pointing to psychoanalytical structures.
In this new series of works the human figure, rendered in charcoal, appears to hide inside white, whimsical architectural interiors, with cushions, tassels and curtains coloured in magenta, green and denim blue pigments, posing as substitute bodies. The white colour is made with oil-based primer usually applied to size canvas before starting the painting process, here used as a medium per se.
A similar chimerical interior to the paintings has been recreated in the gallery space by colouring the floor white, making the exhibition space an installation where the visitor is invited to participate and where the images of the paintings becomes real objects. The cushions and bolsters piled on the floor and against the painting (Every Cloud Has a Silver Lining, 2014) as much as Curtain no.11 (Soft Corners Lining White), 2014, the spatial relationship existing between the bidimensional and the tridimensional.
The paintings in Di Massimo's exhibition cease to be constrained by representation or the application of shape and colour onto a flat surface, and instead become recognizable as objects, or to a certain extent, large floating cushions. Looked at from the side, the paintings' canvas is sewn together at the edge of the stretcher, creating an uncanny similarity with the subject matter depicted and our own interior world of reflections, as well as reminding us that they are also made of fabric.
Fabric is a recurrent motif in Di Massimo's work. In his previous exhibitions, such as I Want to Live Like This, 2012/13, at T293, Rome, the artist began representing personalities as curtains (Curtain n.2 (Portrait of Canio), 2012). More recently in his exhibition at Gasworks, London, the artist employed the material to represent Emily Barlow, the main character in the novel 'The Lustful Turk,' an erotic epistolary novel about the adventures of an innocent English girl kidnapped by the Dey of Algiers during her journey to the East. (Curtain no.10 (Portrait of Emily Barlow), 2013).
In Soft Corners Lining White, Di Massimo does not create curtains per se, but rather depicts them in the paintings that refer to an architectural interior, or the metaphorical interior of a subject, or persona remaining in a state of limbo between private inner world and publicly engaged exterior. In The Mistress, 2014, hands, bodies, feet, and buttocks are stacked together in a greasy heap of unrealistic perspectives and overlays. A pair of heads with curly-haired chests protrude from the pile donning spiked headgear pointed at button pillows. The sexual act or climax is everywhere subverted by erotic allegory and allusion.
In a similar way, French Kiss, 2014, depicts the figure of a man and reptilian creature kissing with hands touching surrounded by birds, their beaks poised at the folds of button pillows. In this case, the figures' tongue and skin act as the curtain-like portal to erotic pleasure, as well as perhaps representing the thin barrier between the Freudian Id and Superego. On the other hand, Moxibustion, 2014, is a portmanteau of moxie (force of character) and combustion (the process of burning something, perhaps spontaneously). It depicts two piles of pillows, one floating above the other supported by 'U' shaped crutches with 'I' supports, evoking familiar forms of wordplay employed by Di Massimo in Me, Mum, Mister, Mad, 2014, for Kunsthalle Lissabon, Portugal, a family portrait in which the first letter of the artist's family members' names is replaced by the first letter of the pronoun "Me."
Di Massimo's paintings act as curtains do by bridging the gap between the social as a site for safe or normal behaviour, in contrast to things that might occur behind closed doors, or in one's innermost private thoughts, where the subconscious is allowed to roam.
Patrizio Di Massimo (born 1983, lives and works in London) received his MA from the Slade School of Art, London. Recent solo exhibitions include: Me, Mum, Mister, Mad, Kunsthalle Lissabon, Lisbon (2014), The Lustful Turk, Gaswork, London (2013), I Want to Live Like This, T293, Rome (2013), Il Turco Lussurioso, Villa Medici, Rome (2012) and performances at Fiorucci Art Trust, London (2013) and at the Stedelijk Museum, Amsterdam (2012). Upcoming exhibitions include: Don't You Know Who I Am? at M HUKA in Antwerp, Portrait of the Artist as a Young Man at Castello di Rivoli. Last year his work was featured in the group shows The 338 Hour Cineclub, Fondazione Sandretto Re Rebaudengo, Turin, and It May Be That Beauty Has Strengthened Our Resolve, ParaSite, Hong Kong. In 2012 he was selected as a finalist in the Premio Italia 2012, held at MAXXI, Rome and participated in the group shows Man Among the Ruins, Teoretica, San José, and Ritual without Myth, Royal College of Art, London.