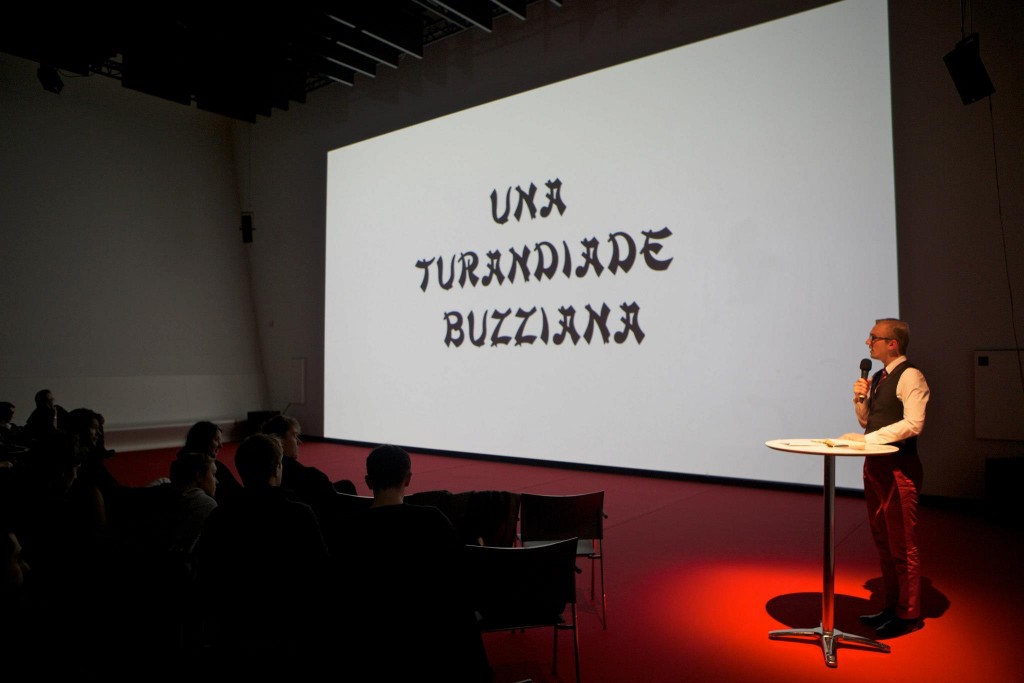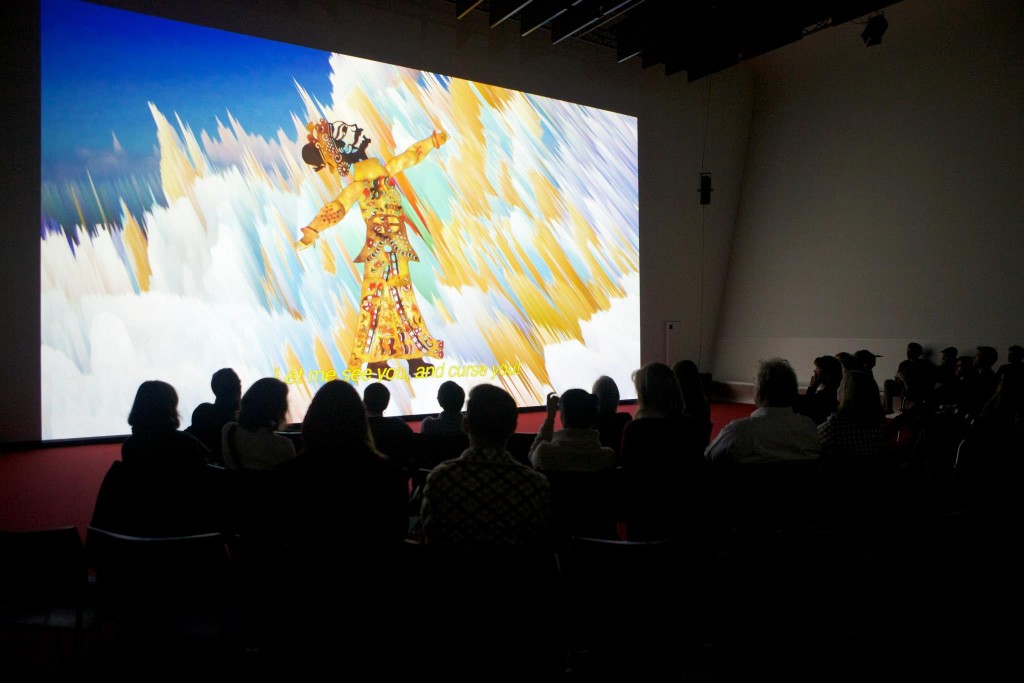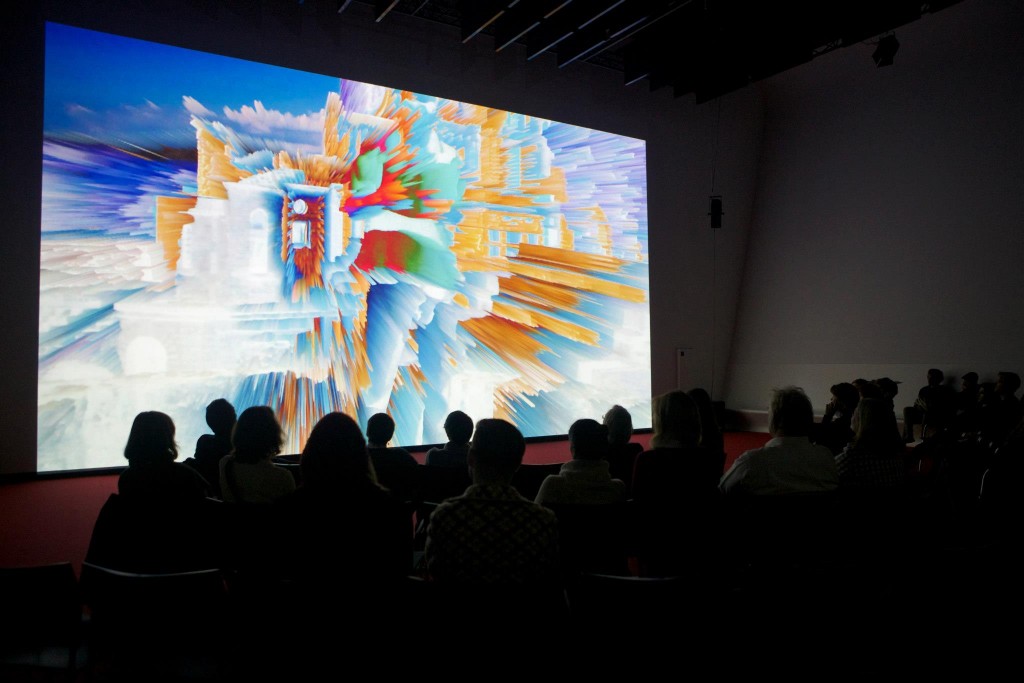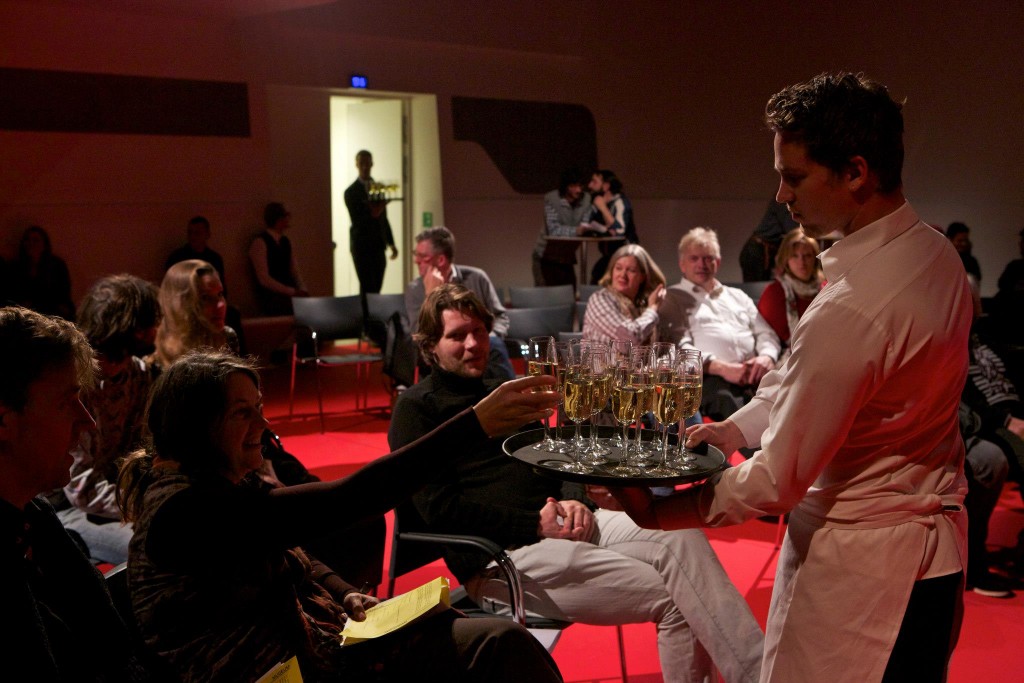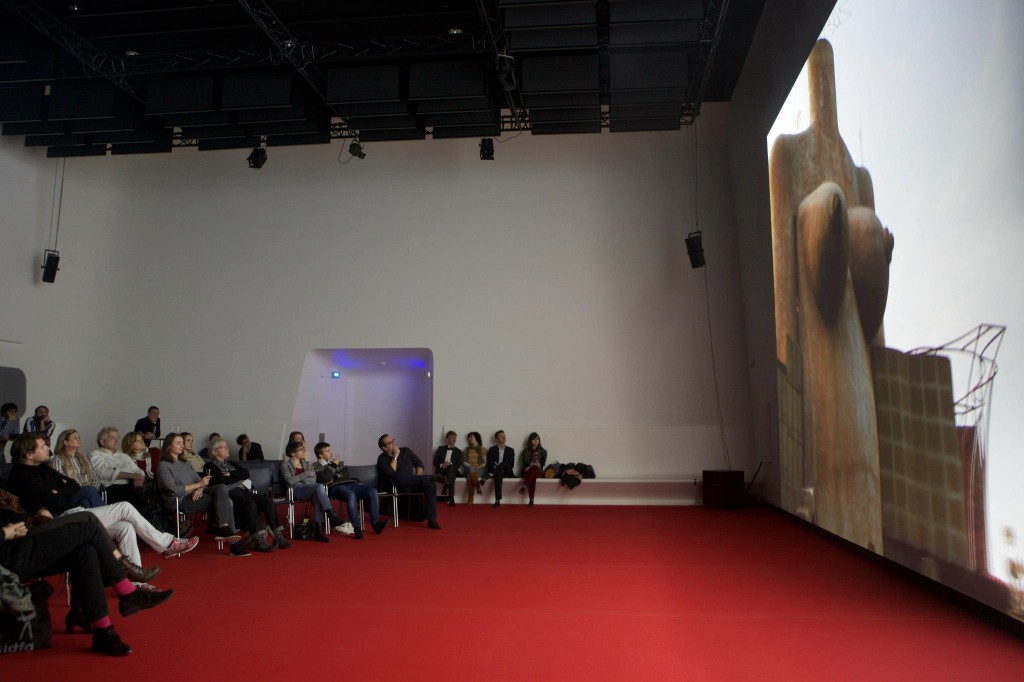 Una Turandiade Buzziana, 2012, Installation view Stedelijk Museum, Amsterdam
Photo Credit: Ernst van Deursen
p
p
UNA TURANDIADE BUZZIANA / BUZZI'S TURANDOT, STEDELIJK MUSEUM OF AMSTERDAM, NOVEMBER 15 2012
Curated by Hendrik Folkters
The Stedelijk proudly presents the Dutch première of Patrizio Di Massimo's new film "Buzzi's Turandot (In the Shape of Notes)", which is shown specifically for this occasion as a performance in three acts, following the setting and style of an actual theater. 
At the core of "Buzzi's Turandot (In the Shape of Notes)" is the architectural and theatrical utopia "La Scarzuola", a private city built by Italian architect Tomaso Buzzi (1900-1981) on the site of a Franciscan monastery in Umbria. Buzzi began to create "La Scarzuola" in 1957, frustrated by his more commercial work. Adding to the site intermittently, Buzzi gradually animated and personified his private city with layers of mythical and theatrical iconography and symbolism, which he freely combined with Medieval, Renaissance, and Mannerist architectural styles. Following Buzzi's death in 1980, portions of "La Scarzuola" were completed by his nephew, Marco Solari, thus rendering ambiguous the authorship of the site as a whole.
Di Massimo responded to the theatrical scenography of the site and its complex strata of connections. In collaboration with Solari, he created the film, shown this evening, in which he takes the viewer on a tour of La Scarzuola by Solari. Mediated by the camera, his narration is punctuated with moments of dreamlike, animated fantasy, through which the strains of Giacomo Puccini's iconic opera Turandot emerge in parallel. The architectural tour overlaps with the lyrics of Turandot to reveal an exquisite series of associations between Solari, Buzzi, and the architecture itself, echoing the love story within the operaTurandot. Sharing the stage with Solari, an animated Chinese shadow puppet playfully alludes to the exoticizing of the Orient within the opera. The mischievous character observes Solari's performance and then itself responds to the anthropomorphic architecture of La Scarzuola, which metaphorically becomes the opera's princess, Turandot.
The film explores the intricate relation between theatricality and architecture, which is emphasized during this evening by rethinking the new Teijin Auditorium as a potential theater space, both literally and conceptually.
The performance can also be considered a link between two other Public Program events, namely Stage It! (Part 2) on September 27, 2012, and Stage It! (Part 2) in late January 2013. Together with Di Massimo's performance, these events examine the potential of museum space as theater, investigating their respective and combined histories, the experience of the body in architectural space, and the place of performance art within theatrical and museum structures.